Talent show demonstrates students' skills
Hang on for a minute...we're trying to find some more stories you might like.
On Friday, March 15, audience members filled the auditorium to watch their friends and family perform in the twenty first annual AAHS Talent Show. Tickets were $3 for students and $5 for adults, with the proceeds benefiting student activities. The show was put together by Julie Schmoke, who has been running the show since 1998.
"There are so many students here that have amazing talents that not many people have the opportunity to see, so I thought it would be nice to start a talent show and open it up to the public," Schmoke said.
The show featured 20 acts. Those acts included vocalists, instrumentalists, a comedian and twirlers. The student performers volunteered for the audition process overseen by Larry Detwiler and Schmoke.
"Auditions were really simple. It was basically just all of us in a room watching each other perform for Mrs. Schmoke and Mr. Detwiler," junior Allison Peterman said.
English teacher Douglas Rosenberry hosted the event and introduced each act to the audience.
"This was my first time hosting the talent show. I was so excited to see so many students get up on stage to showcase their talents. I never would have had the kind of courage to do what they did when I was in high school, so it was all the more impressive to watch them put themselves in such a vulnerable position," Rosenberry said.
At the end of the talent show, the judges deliberated and choose three winners, and Rosenberry handed out the awards. The independent acts of senior Zane Esworthy and senior Marissa Abbott both received an award for first place. Sophomore Jason Cross received second. The group of senior Ian Brannan, senior Marissa Abbott, sophomore Seth Brunhuber, senior Jake Kibler and senior Jimmy Gallace received third place.
"I was honestly quite surprised because Zane was really good. I really liked the song I played because there was a lot of loud and expressive dissonance," Abbott said.
About the Writer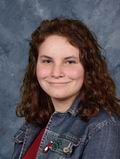 Sonia Yost, Reporter
My name is Sonia Yost, and I am a sophomore. I enjoy connecting with my friends through the use of social media and making commentary on movies. I am a...