Kline's American Studies students take part in differently abled week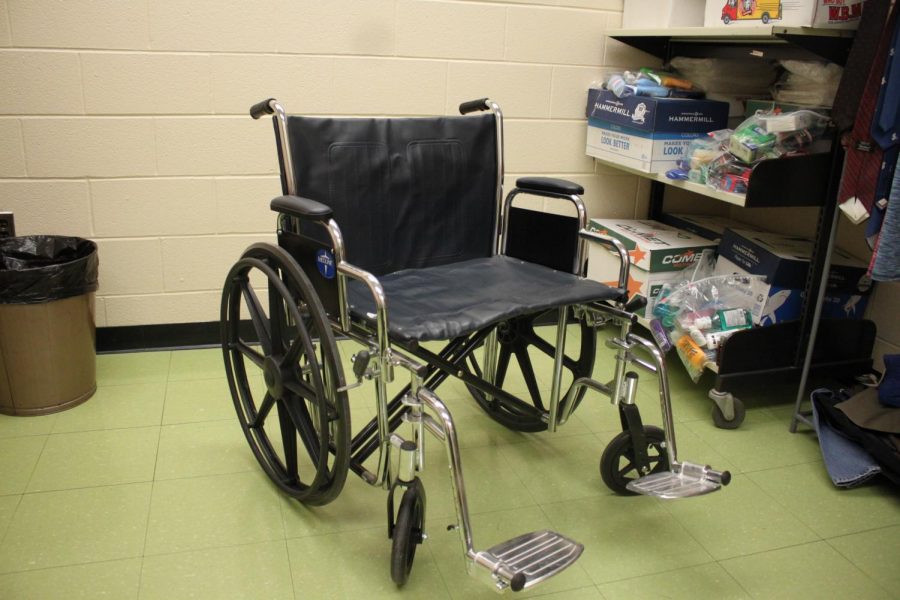 Carolyn Kline's American Studies students participated in a graded assignment, from April 1 to 5, in which they experienced a school day with a physical disability. The students were able to decide if they would rather be blind, deaf or wheelchair-bound for a day.
Kline was inspired to create this project when there was the school-wide reading of the book Wonder several years ago.  Since then she has continued the project.
"During the week, the students take on a disability for a day, I do hands-on lessons in my class that teach them about different disabilities, both physical and mental, and then one day they also visit one of our special needs classrooms and interact with the students and teachers there. Visiting the other classrooms is consistently one of the things my students report that they enjoy the most. We are still segregated a lot, in a way, in regards to that, so I think it's important to encourage involvement with the two groups.  I also want them mainly to be a little more kind, a little more understanding, and a little more patient towards those who are differently abled. This is always a reminder for me as a teacher, to treat each of my students with respect and to remember that they all come into my classroom with different abilities, styles of learning, and pace of learning. I would hope that other students in the school would see my students and reflect on how they would feel in that situation, and if we all pledge to do better, we will be better," Kline said.
"My favorite part was visiting the special-ed class, they are so polite and full of life," sophomore Gabriella Rodriguez said.
Kline has personally participated in the differently-abled week when in college.
"I do the differently-abled week mainly to help create some acceptance, empathy and understanding for those who have mental and/or physical handicaps, as well as to remind myself and my students that everyone has their own struggles, but that we can all be thankful for the positive things as well. A lot of us, myself included, sometimes tend to focus on the negative, and I wanted to help create an environment of acceptance of others as well as appreciation for what each of us does have. I do it as an extension of the Civil Rights movement because that movement encouraged other groups to stand up for what they deserved, such as women, Hispanics, Native Americans and people with disabilities. The creation of the ADA is a direct outcome of this movement. I got the idea from a graduate school class that I took called 'Teaching the Exceptional in the Regular classroom.' The professor had each of us take on a disability for the day, and it was very impactful to me," Kline said.
The disabilities the students took on highlighted how much they rely on their five senses everyday. According to the students, the most difficult disability of the three varied for each participating student.
"I thought the hardest [disability] was being blind, but my friend said it was being in a wheelchair," Kyle Eckenrode said.
But as for Kline, she says blindness is the most difficult for her.
"I think it is blindness. That is the disability that I took on because blindness runs in my family. You get a real sense of how much you rely on your sight on a daily basis. You have to trust in your abilities, and you are very conscious of how you may look to others, as well as your surroundings. I got very tired from the strain of trying to focus on listening all day, while being deprived of my eyesight," Kline said.
Kline believes that participating in the differently-abled week teaches students a lesson more valuable than one that comes out of a textbook.
"My American Studies students are involved, and as I said before, as an extension of the Civil Rights movement that we learn about in our text. They do hands-on lessons in my room revolving around learning about different types of abilities, they visit a special needs classroom, write a reflective journal of the week, and research someone famous who has overcome a handicap.  This last one is to shine a light on that we don't need to focus on the negatives, but instead pursue the positives to achieve our goals," Kline said.
About the Writer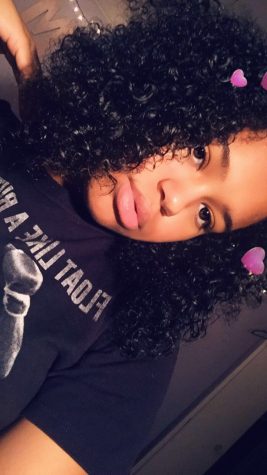 Minya Strobel, Reporter
Hi! My name is Minya. I am a sophomore, and it is my first year working for the newspaper. I am a Cancer, and I enjoy listening to music. I am different...