The lyrical genius of Taylor Swift
Somehow the question: "Do you like Taylor Swift?" is always going to raise unpredictable answers. 
From the rise of her career in 2006, to her booming return after being harassed off the internet in 2016, briefly interrupted by the COVID-19 break that canceled tours, Swift released 10 studio albums and won 540 awards. Along with the re-recording of her previous albums owned by Scooter Braun, Swift has been on a musical high since 2017.
There's no denying that Taylor Swift is one of the most influential musical artists of our generation, whether you dislike her or not. Throughout her career, she created the most versatile ranges of music, from country to pop, from pop to folk, mixed with an occasional ballad or techno beat. All in all, Swift makes music for everyone, and within the rough amount of 224 songs, there ought to be something that is able to strike intrigue. 
However, the fact she's this successful is the sole reason why she can be so hated. The audience was able to watch Swift grow up from a naive rising-star country artist, to a 33 year old whose entire life and vulnerability has been turned into music. This, I believe, makes her still feel like a relatable human. 
On July 24, 2020 Swift released the album "Folklore," merely 11 months after the release of "Lover," in August of 2019.
"Folklore" changed everything. 
The persona that Taylor Swift had previously created for herself was destroyed, unlocking a brand new version of the artist. The height of the pandemic had momentarily put the world on pause, disrupting the release of new art forms. Swift revealed the album was written and produced in the first three months of lockdown, in her home. At midnight, Swift dropped a music video for the single "cardigan," along with 17 tracks of magical storytelling and an escape from the real world. 
Swift has always been known for clever lyricalism and blunt insults within her music, as all the albums leading up to "Folklore" have always included songs fans were able to pinpoint who they were written about.  The re-releasing of "Red" in 2021 featured an extended 10 minute version of the song
"All Too Well," which was a direct stab at Jake Gyllenhaal and their messy relationship back in 2010. "Dear John" on "Speak Now" was written about John Mayer after their break-up while Swift was still 19 and Mayer was 32. 
Fans grew more and more keen on catching Swift's sneaky disses within her music throughout the years, but, "Folklore" took the fandom by surprise when it was revealed that almost the entire album was written about stories Swift had completely created from her imagination. 
The album opens with the song "the 1" which features a bubbly piano riff accompanied by the simple opening line: "I'm doing good I'm on some new s**t."
Whatever the interpretation of that truly is, there was no better way for Swift to reappear out of another forced isolation than slyly and cleverly. As the album continues, we hear ranges of carefully compiled guitar melodies, intricate piano ballads, all layered on top of production that sounds like it's laced with pixie dust and campfire ashes. 
As the audience was processing the contents in "Folklore," a picture was able to be completed and a storyline was beginning to be revealed. 
Swift has always attempted to create work that set herself apart from her contemporaries. In the universe of "Folklore," there was a new standard set within the music industry that allowed people all over the world to connect with one another through the art of imagination.
The storyline of "Folklore"
The story begins with a relationship between James and Betty. The two were high school sweethearts, forming a romance in a small town around the summertime. Track 14 entitled "Betty," explains the details of their relationship, but more importantly, the sequence of events leading up to James cheating on Betty with another girl.
Written from James' point of view, the song expresses the guilt James endures and the trouble he goes through in order to win her back. The lyrics "The worst thing that I ever did, is what I did to you," and "But if I just showed up at your party, would you have me? Would you want me?" all express the feelings of regret James is experiencing while the relationship is completely dead to Betty. 
The affair occurred between James and another classmate, Augustine, as revealed in track eight, "August." The song is written from Augustine's point of view, describing the affair as something she didn't realize was wrong, since the lyrics suggest she was manipulated by James. 
"Whispers of 'are you sure?' 'Never have I ever before,'" and "Will you call when you're back at school? I remember thinking I had you." Augustine was blinded by the love James gave her, all while James was thinking about Betty the entire time. In "Betty," James says: "Those days turned into nights sleeping next to her, but I dreamt of you all summer long." As the perspectives of the two characters switch between each song, it can be analyzed that Augustine never intended to be hurtful towards Betty, and James was orchestrating the entire situation. 
In track two, "cardigan," Betty is the one speaking. She tragically explains the ups and downs of her relationship with James from before the affair to after. Betty saw James as someone who was able to understand her, someone who hasn't undermined her intelligence and loved her for her mind as well as physical appearance. The song begins at the start of their relationship, where she says: "When you are young, they assume you know nothing—but I knew you." 
Betty describes herself as someone who was tossed aside frequently, and only James was able to make her feel loved again. "And when I felt like I was an old cardigan under someone's bed, you put me on and said I was your favorite."
However, the bridge of the song describes the despair, anger and disappointment Betty felt when James cheated on her. Lyrics like: "I knew you, leaving like a father, running like water," and "I knew I'd curse you for the longest time, chasing shadows in the grocery line," tie into the intense emotions Betty felt when she had found out. The song ends with the lyrics: "And you'd be standing in my front porch light, and I knew you'd come back to me," directly references James in "betty," when he says: "I don't know anything, but I know I miss you, standing in your cardigan, kissing in my car again." 
The love triangle between Betty, James and Augstine is explained within those two songs. Compiling the lyrics together, mapping out a timeline and discovering each character's motive is somewhat easy when Swift lays it out in the way she did. However, you could go as far as to incorporate almost every song on "Folklore" into the Betty, James and Augustine timeline. 
In track seven, titled "seven," the song is written about a childhood friendship, where one friend is experiencing abuse at home, while the other friend doesn't quite understand it. In this song, I believe Augustine and James were childhood friends, Augustine being the one growing up in harder conditions, finds herself forming an attachment to James forever, since he gave her comfort. I feel like the song is reminiscent of the childhood James shared with Augustine after she moved away while still being young. Augustine returns back to town, their hometown, and hopes that he'll remember her. "And though I can't recall your face, I still have love for you."
Track 10, "illicit affairs," and track 12, "mad woman," could be interpreted from Betty's point of view.
"illicit affairs" conveys major themes of infidelity, which further justifies Betty's pain. "Mad woman" is also fuel for Betty's anger, and she explores all the stages of grief throughout these songs. Lyrics like: "No one likes a mad woman, you made her like that," and "It's obvious that wanting me dead has really brought you two together," in "mad woman" correlate the angrier parts of Betty. The misunderstanding Betty has with Augustine, one that they don't ever speak about, the needing to blame the other woman instead of James himself. In "illicit affairs," Betty's sadness is explored with the lyrics: "Don't call me kid, don't call me baby, look at this godforsaken mess that you made me." The spiraling of someone in the position of being cheated on is perfectly represented within Swift's writing.
It's even possible to say that some songs are written from two different points of view depending on the verse. In track nine "this is me trying," the first verse sounds like another version of James' apology with lines like: "I didn't know if you'd care if I came back, I have a lot of regrets about that," or "And maybe I don't quite know what to say, but I'm here in your doorway." The second verse is how Betty had responded to James, with lines like: "You're a flashback in a film reel on the one screen in my town," and "My words shoot to kill when I'm mad, I have a lot of regrets about that." It almost sounds like it could be a conversation, as a lot of the same phrases used in "cardigan" and "betty" are rephrased differently within this song. This is how it could be determined who is singing which song, and what situation we are listening to. 
Swift also pays homage to her personal life in a couple songs. Track three, "the last great american dynasty," track 13, "epiphany" and track 11, "invisible string." 
"The last great American dynasty" is a song written about Rebekah Harkness, the former owner of her home in Rhode Island. Harkness' legacy was depicted through vicarious lyrics, leading the audience through a story that ends with Swift buying the house herself. Rebekah Harkness was also known as Betty Harkness throughout her career, which could also be taken as a cleverly composed link between the imaginary love triangle and real life.
"epiphany" was written in honor of Swift's grandfather and his time spent at war. The song can also be interpreted in a way that shines light on all the hard work first-line medical officials put in during the COVID-19 pandemic. "invisible string" was written about Swift's relationship with actor Joe Alwyn, the lyrics making reference to personal stories Swift shared with Alwyn, something she hasn't done before.
The beauty of this album doesn't just rely on the interpretation of lyrics, or how well I could manage to put together a cohesive story. The real beauty lies in the fact that what I just interpreted could be changed around and decided upon differently, while still making sense. There are so many hidden meanings behind the words Swift chose to use throughout "Folklore," and what's even more brilliant is that the album could be used as a relatable cushion as well as a story. The songs she wrote are so vulnerable and raw, and can be relatable to a lot of people's lives. This, overall, is the album of pure isolation, and the reminder that inspiration can still come, even in time of metaphorical solitary confinement. Sitting alone with your own thoughts can be overwhelming, but Swift opened a pathway for all of the daydreamers and creative minds, and taught us that every pure or impure emotion we think can be made into something beautiful.
Leave a Comment
About the Contributor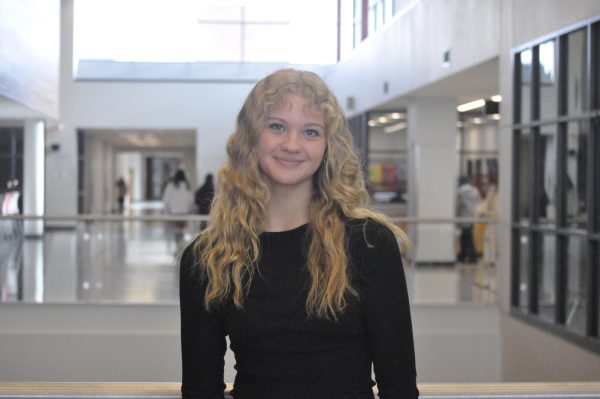 Makenzie Closson, Associate Editor
My name is Makenzie Closson. I am a second year member of the Mountain Echo and Horseshoe yearbook staffs. Last year, I became a PSPA finalist and even...