Charity concert spreads suicide awareness
Every day too many students consider suicide. In response, suicide awareness is increasing across both nationally and locally. Senior Trey Harkins decided to help the cause in a way that was most personal to him.
On Friday, Feb. 28, Harkins hosted the Rockin' Out of the Darkness Charity Concert in the school auditorium with the help of his friends.
Harkins, who himself has dealt with suicidal thoughts, formed the concert in order to raise awareness of suicide and its warning signs. All proceeds from the concert were donated to the American Foundation for Suicide Prevention.
At the beginning of the concert, Harkins addressed the audience, about the consequences of suicide and the resources available to help prevent it.
"What people in a [suicidal] state of mind don't know is how much suicide affects everybody else in their life. There is help. There are places to get help. They are always out there, and there are people to talk to that are certified to help you," Harkins said.
Harkins and his friends helped him arrange the concert by picking out specific songs to play.
Harkins was accompanied by seniors Alex Daversa, Maeve Wonderly, Jason Cross and Daniel Kennedy; juniors Isabella Kennedy, Rylie Whitaker, Alex Thaler and Aaron Saylor and sophomore Michael Pastore.
"With everything that goes on in today's world, stress and depression are becoming more of a problem. I think [Harkins] is trying to help those who feel like they're alone," Pastore said.
Pastore played a tenor saxophone solo in the musical piece "Same Old Song and Dance." Pastore also played a duet on the guitar alongside Harkins in the song "Flying Horses."
"
…Trey put in a lot of thought and effort and the end result definitely reflected that. We're all really proud of him,"
— junior Rylie Whitaker
Harkins' friends know him from school music organizations and were eager to help him with his senior project.
"I felt like it was the right thing to do, and of course I was willing to help out a friend and a good cause," Whitaker said.
During the concert, Whitaker sang with Harkins in the song "The Chain" and played the piano in the solo song "Rhapsody Brilliante."
Whitaker was supportive of Harkins' plan to assemble a concert about something so personal to him.
"I always try to do my part to help others and make the world just a little bit nicer, and I think Trey has similar interests as well. I believe Trey had some personal reasons for choosing the cause that he did, and he really did a great job sticking to his values and carrying out a good deed that required a lot of courage and effort," Whitaker said. 
When Wonderly was introduced to Harkins' idea of the charity concert, she too knew the importance of the message behind it.
"I think suicide awareness is extremely important today because so many people feel completely alone at this age. It's okay to feel that way, but there is always help available. It's okay to seek help because suicide should never be the final answer," Wonderly said.
Wonderly and Harkins met during sophomore year in jazz band and have been friends ever since.
Wonderly played "Goodbye Yellowbrick Road" on the piano as a solo and accompanied multiple songs throughout the concert including "If I Die Young," "You Got a Friend in Me" and "She Used to Be Mine."
Many of Harkins' friends and fellow musicians during the concert realized and appreciated the dedication Harkins put into the concert. 
"A lot of people don't get to see the behind the scenes or the pressure that comes with something like this, but Trey put in a lot of thought and effort. The end result definitely reflected that. We're all really proud of him," Whitaker said.
Leave a Comment
About the Contributor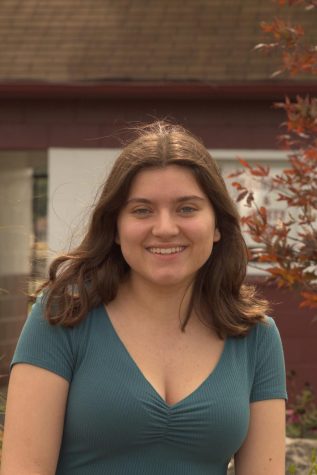 Sydney Wilfong, Associate Editor
I'm Sydney Wilfong, a senior at AAHS. I'm part of the band as a proud tenor saxophone player. On the days I have time, I enjoy writing, reading and...