Coronavirus affects students in school community
All schools K-12 under Governor Tom Wolf's jurisdiction originally planned to be closed through March 30. As of March 23, schools in the area will remain closed through April 6. 
Throughout the community, numerous students feel the impact of the closing. These students hope that March 12 was not their last day of school. 
"As a senior, I am very upset about what is happening. I really hope that March 12 wasn't our last day of school. Yes, most students do not like being there every day and complain, but when it comes down to not being able to go to school because of a world pandemic, it is difficult to understand," senior Jadie Pensyl said. 
"I personally miss my friends and school in general. I feel like as a senior it is sad to be missing out of a portion of my last year or potentially a large part of it. There has been a lot of worry for what we are going to do for graduation, prom, etc, and I hope that it is all resolved soon," senior Adrianna Huss said.
Pensyl does not understand how the world can change in a matter of days.
"We came into this world during 9/11, and now we are graduating during the worldwide coronavirus. It is hard to comprehend how the world was fine one day and the next day it is affecting almost everything I am just hoping that everyone does their part of making sure the coronavirus does not spread more than it has to," Pensyl said.
Junior Sarah Weathersbee believes the closing was necessary for the community.
"I think the school closing was necessary to help slow down the spreading of the virus. I just wish we were a little more prepared," Weathersbee said.
With all of the talk regarding the closures of schools, doubt has increased on certain things that students looked forward to going into the end of the year. 
"I think students are going to fall behind when we come back as routines were disturbed. I hope seniors will still get their senior prom and graduation because this wasn't fair to any of them," Weathersbee said.
The Covid-19 pandemic has seniors doubting plans regarding their last prom and graduation. 
"I have been in contact with many of the senior class and have already made a live address to most of the class. We are all deeply upset; however, our hopes are high. We hope we still can get our prom and our graduation speech. I'd ask everyone to keep their hopes high, and talk to friends and family daily," senior class president Zach Zeigler said.
Senior Jay Reiter has used this "break" as a way to relax from stress. 
"In all honesty, the break has given me, well, a break. For me, the break kind of came at an opportune time. I struggle a lot with mental health issues, so getting up every day and coming to school can be a hassle. It's been rough lately and being off school has given me time to relax and focus on me (and assignments I'm missing, but we all know no one's doing any work over break)," Reiter said.
Students who are actively involved in the music programs at school are affected by Covid-19. 
"A lot of my friends are music kids involved with the Pennsylvania Music Educators Association (PMEA) and are pretty upset about canceled festivals, and most people I know are getting bored without the lack of structure," Reiter said.
"It's been an odd experience that we are all living in. I personally was preparing for Western Regional Orchestra. Every week we had practices leading up to when we were supposed to leave. We all knew about the virus and how quickly it was spreading throughout the world. A week before the festival the word was out that Philadelphia wasn't going to their festival. That made us feel uneasy. I was not expecting it to be canceled, but a day before we were going to leave it was canceled. I'm glad it was canceled because it was not worth the risk of getting sick. I personally have Type one diabetes which makes the virus more dangerous and a bigger threat to my life," senior Kyan Berry said.
Students try to stay busy and entertained throughout the "break". 
"To keep myself occupied, I have been cleaning like a lot, watching Tik Toks and snapping my friends," Huss said. 
Pensyl feels that high school went by too fast for the seniors.
"High school flew by way too fast. I wish with everything that we will get back to school and be able to have our last prom, be with each other one more time, walk the halls, see our favorite teachers and be honored with our diplomas at graduation. I believe the other seniors wish this too," Pensyl said.
View Comments (1)
About the Contributor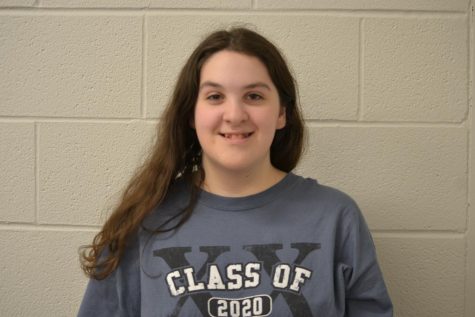 McKenzie Quirin, Reporter
I am a twelfth-grade student at Altoona Area High School. I enjoy hanging out with my friends, babysitting my cousins and watching movies. I am a part...