Music department granted permission for in-person classes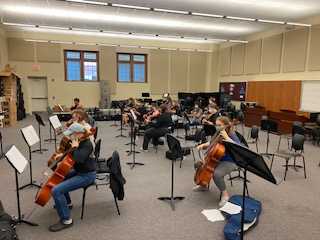 On school weekdays, the music department is conducting in-person classes for the duration of virtual school. Participating subjects are orchestra classes, band classes and chorus classes. The chorus, orchestra and jazz band practices will be held at the junior high school. Some band practices will be held at Mansion Park or the junior high field.
Kelly Sipes leads chorus classes.
"I hold in-person rehearsals for our concert chorus Mondays and Wednesdays from 4 to 4:45 p.m. and for vocal ensemble Tuesdays and Thursdays from 4 to 4:45 p.m.," Sipes said.
Junior high and high school orchestra director Kelly Detwiler leads orchestra classes.
"The whole orchestra is Mondays from 5 to 5:45 and then the string ensemble is Wednesdays 5 to 5:45 and then the ninth grade orchestra is Wednesdays from 7 to 7:45," K. Detwiler said.
Larry Detwiler leads the band classes. Jazz band will take place from 4 to 4:45 p.m. and band is from 7 to 9 p.m.
There is a short list of requirements for those attending classes.
"They do need to have temperature checks. They have all signed a waiver stating that they and their adults in their lives have agreed to come in and not hold the school district liable for anything. It's on their own that they've chosen to do this," K. Detwiler said.
The music department is taking precautions to protect the students and teachers from COVID-19.
"We do screen and ask the COVID-19 questions as they enter every single time," K. Detwiler said.
"I don't have any concerns about practices as we are following CDC guidelines. Health screenings occur before rehearsals begin. Masks are worn at all times, and we sing distanced from each other," Sipes said.
People have described the meetings as good for all the students who decide they would like to attend.
"They are very beneficial. It is important to be able to play with an entire ensemble.  While practicing alone is great to improve my own musicality, I feel that there are skills that are best improved in an ensemble. Such skills include intonation and dynamics. There is nothing better than actually being able to hear music, especially after six months of practicing alone," senior bass section leader and orchestra president Alex Thaler said.
Students are encouraged, if they feel safe, to attend the in-person meetings.
"The more people that can attend in-person rehearsals, the more the ensemble can grow together. It definitely will also help to have experiences with each other so that our ensemble has a good starting place if in-person orchestra classes happen in the new building," Thaler said.
"The chance for students to interact with and sing with one another is so important! We all need social interaction. These rehearsals give us a chance to develop our musical skills. Sharing music together with friends is such a great outlet in a time like this," Sipes said.
During the first few practices students seemed to enjoy their time together in person.
"In my opinion it did seem like the students wanted to be there and wanted to have that live musical experience and the interaction with their friends, and I do think it turned out very well," K. Detwiler said.
The classes are composed of what teachers have been teaching their students in virtual classes during their designated class periods on synchronous days.
"We practice what I've been trying to teach virtually online. So students do have about two or three pieces of music that I handed out way back in August, and we've been working and so we're just trying to pull that together," K. Detwiler said.
About the Contributor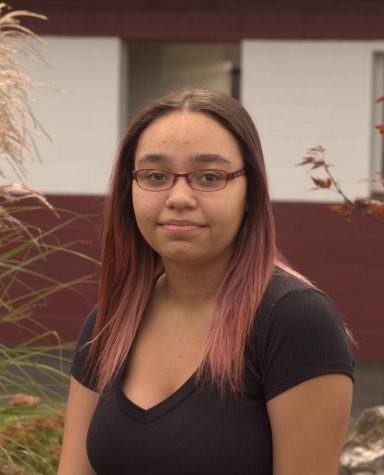 Myah Lear, Reporter
Hi! I am Myah Lear. I am a sophomore and part of the AAHS Mountain Echo staff. I have played viola since the fourth grade. In elementary school, I participated...