Senior artists showcase talent
During this school year, many student artists have found it difficult to showcase their art to other people. However, seniors Lily Porter and Julia Lane have made the best of it showing their creativity in their art.
Art teacher Kathryn Curry loves to see her students show their creativity.
"I love being an art teacher because each day is always different. I knew from a young age I always wanted to be a teacher because I enjoy helping others, and I also have always loved art. Art teaching is the perfect combination of those two passions," Curry said. "I enjoy working with students and getting to know them and what makes them unique through the artmaking process. My classroom is a collaborative workspace, and I strive to make students feel welcomed and inspired to create artwork."
Lane is currently taking AP Art, ceramics and sculpture classes.
"I don't really think that I specialize in any kind of art. I just create whatever is making me happy or whatever I want to work on. I've done art since I was little, but I started pursuing art seriously in eighth grade," Lane said.
Porter, on the other hand, doesn't take any art classes; however, she still loves art.
"I specialize in acrylic realism painting. Basically, it's painting realistic objects and landscapes in acrylic paint," Porter said.
Lane realized that she was good at art in ninth grade when her teacher entered her art in the Penn State Altoona Art show.
"I like art because I think it is fun and relaxing, especially in the right setting. Also, I like making things that other people and myself like to look at; it makes me happy," Lane said.
"
"Also, I like making things that other people and myself like to look at; it makes me happy.""
— Senior Julia Lane
Porter has been doing art for as long as she can remember.
"I've been doing art since I could write. I realized I was good at art when my teachers and classmates began to compliment me on whatever I had been working on," Porter said.
Lane accomplished a lot with her artwork.
"Last spring I was one of about 10 artists awarded from Altoona and BG [Bishop Guilfoyle] by the Women's Club of Altoona for an art achievement for one of my pieces. Also a few of my pieces have been displayed at the Southern Alleghenies Museum of Art in the Artists of the 21st Century display," Lane said.
About the Writer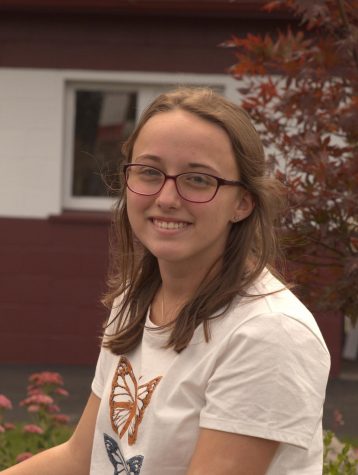 Destiny Montgomery, Associate Editor
Hello, I'm Destiny and I'm a junior at AAHS. This is my second year writing for Mountain Echo. I wrote for the AAJHS Livewire during my freshman year....