Senior year cut short
Baum reflects on a COVID-19 filled senior year
Senior Lydia Baum never thought that her senior year would turn out the way that it has. There are moments she was dreaming of that were taken from her. 
"So far this year, I have missed out on a lot of average senior activities.  Student sections, school dances, attending football and basketball games.  All of these activities were taken from all of the seniors," Baum said. 
During sporting events, students would normally support fellow classmates by being a part of the student section. Students dress up and scream chants from the stands. 
"I was most looking forward to being able to form student sections for sporting events because usually the seniors get to stand in the front row and create the themes.  This was something I think a lot of us seniors were looking forward to," Baum said.
Baum is a part of the soccer team. If she could go back to any senior moment she wishes to go back to her final soccer game. 
"This moment was so bittersweet, and I had never felt anything like it," Baum said.
She reflects on memories from not only her senior year but from her junior high and elementary school days. 
"My best memory from senior year so far would have to be the night the football team won the D6 championship. The game was so intense and the crowd was really into the game.  It was so awesome being able to see all of my fellow classmates win a D6 championship for their senior year.  My all time favorite memory from school is when the power went out and we got to go home early.  It is so memorable to me because when we got to leave school my friends and I went swimming all day long," Baum said. 
Baum thanks teachers and administration for what they have done to make her senior year possible. She also reflects on one of her favorite teachers. 
"I am very thankful that teachers and the administration have put together a homecoming event for us due to the circumstances that we are in.  Although it will be much different than every other homecoming, I am very thankful that we are able to have something along the lines of a homecoming. My favorite teacher is Mr. Lowe because he is one of the most caring, kind hearted, most genuine people that I know.  He truly impacted my outlook on life.  I also learned so much in his class while it was also enjoyable," Baum said. 
As she finishes her senior year, she advises underclassmen to live in the moment.
"One piece of advice that I would give to the underclassmen is to live in the moment.  I never thought that senior year would be here so fast, nor did I think that I would be spending most of my senior year at home.  That's why it is good to not want to rush through life and to take advantage of every opportunity you are presented with," Baum said. 
Buam looks forward to the rest of the senior festivities and what happens after graduation. 
"One thing I would like to do before I graduate is I would love to be able to do the walkthrough of the high school, the junior high, and our elementary schools in our cap and gown.  This is something I have been looking forward to for years. After graduation, I am looking forward to moving onto the next chapter of my life and to meet new people, make new memories and focus on preparing for my career," Baum said. 
About the Writer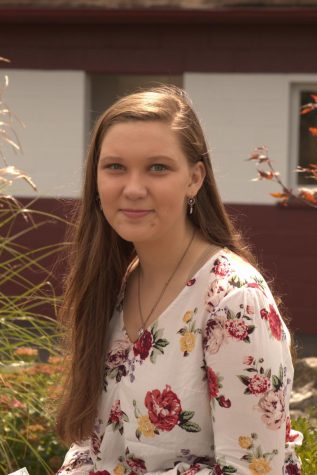 Danielle Bardelang, Reporter
I am a sophomore at the Altoona Area High School and also a reporter for the Teens for Teen Health online newspaper as well as the Mountain Echo. I seek...