Olive Garden provides delicious meals to all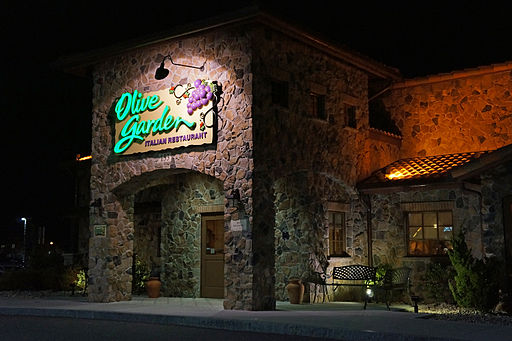 Altoona's wide variety of restaurants make it hard to decide where to go for a nice night out. While many people crave the thick, juicy taste of a burger, the thrilling appeal of an elegant pasta dish topped by crispy breaded chicken with warm breadsticks and a tasty salad is even more of a temptation to most. In Altoona, no place does this quite like Olive Garden does. 
Chances are, most people have been to an Olive Garden at least once in their lives. The aroma of the pasta and breadsticks pulls in people looking for a nice, tasty meal. The ambiance that the staff and waiters create there is great. They play classical Italian music in the background. The lights are somewhat dimmed and hung above the tables.  Olive Garden has a nice selection of booths and tables, which are comfortable, clean and well kept. The decor ties everything together nicely and reminds their visitors of it's Italian roots. 
The staff are attentive and pleasant, they always seem happy to help. The waiters and waitresses check in frequently to make sure there is a sufficient amount of salad, beverages and breadsticks. They work quickly and efficiently cleaning, bringing food and checking in. Staff members keep a professional nature and are generally very kind and helpful. 
The food at Olive Garden leaves everyone satisfied. Olive Garden is known for their warm, delicious breadsticks and their garden salad with their specialty made Italian dressing. Their menu options are extensive; they have every type of pasta you can imagine, along with a wide variety of meats to top them. From chicken parmesan to shrimp alfredo, no one can go wrong when ordering from their menu. Some might say their food is overpriced or expensive, but the customer gets what they pay for. The portions are very large and there is a lot of food that is provided for the price. For the amount of food, most restaurants would have an even more expensive price. The food at the restaurant "Villa Capri" is more expensive and the portions are just as large. Olive Garden also has gluten free options or vegetarian options to choose from. Their eggplant parmesan is exquisite, the eggplant is cooked beautifully and evenly breaded. Under the eggplant, there is a warm blanket of pasta with spaghetti sauce. Their menu has many different options, not only for entrees, but for appetizers, desserts and beverages. The meal is brought to the table fairly quickly, there is not a long wait for anything in the restaurant. 
Another thing to consider about Olive Garden is the environment or the other customers it tends to attract. Olive Garden is a step up from a diner or fast food restaurant, but it is by no means a fancy restaurant. Olive Garden attracts large groups of people who are loud or distracting. There of course is the occasional crying baby or screaming child, as to any family restaurant. Some might not be bothered by these disruptions. However, if looking for a fancy, quiet restaurant, Villa Capri or Fanelli's would be a better choice. 
The other obstacle that many have on their minds during these times of Covid-19 is, 'Is it safe to dine out?' At Olive Garden, the answer is yes. They are taking many precautions and ensuring that their customers are safe. People are seated every other table so that social distancing is in place. The staff clean items down throughout the restaurant. Paper menus are used and the staff members wear masks at all times. Those waiting to be seated wait outside; they only allow the 50% capacity in the restaurant and are following all CDC guidelines. If you still do not feel comfortable in the restaurant they have an excellent takeout system. Ordering can happen easily through an app or over the phone. They bring it right out to your car and there is no contact. It is quick, easy and COVID-19 safe. 
Overall, Olive Garden is a safe and easy option to go out to eat at, their Italian cuisine will not disappoint. It is a great place to have a meal with family, friends or even colleagues.  The famous breadsticks, mouthwatering pasta dishes and flavorful sides are all waiting for you at Olive Garden.