High winds result in 'cartastrotree'
Seventy mile per hour winds resulted in a fallen tree, causing four student cars to become damaged on March 26. The high winds pushed over a large maple tree in the student parking lot. Although only a few student cars were damaged, some students were still pulled from class to move their vehicles.
The National Weather Service had issued a High Wind Warning for Blair County at 7 a.m. that morning.
"I had to go to my car earlier in the day, and the wind was crazy. I was literally being pushed back while walking to the parking lot," senior Ben Blackie said.
The tree fell around 11 a.m. during A lunch.
"I was held up in traffic when I was coming back from community service and at I first was I was annoyed. Then when I drove into the parking lot, I couldn't believe what happened," senior Morgan Audrey said.
"When I first hear about a tree falling in the student parking lot, I anticipated a small, landscaping tree, that we of think about when a new project is completed. The small ones that line the city streets. However, when I arrived on scene and saw that it was a much larger, bigger tree, my first reaction was please tell me there are not students that are have been injured, or any one for that matter," assistant principal Jason Mcginnis said. 
Students involved were individually called down to the main office.
"I heard about the trees falling in my English class about five minutes before I was called down to the office because my car was involved. I was initially panicked because I went in expecting the worst for my car," senior Alex Thaler said. 
"I heard about the incident from Mrs. Hallinan. I was called to the office where I thought I would be told I was being quarantined for COVID. When I got there she told me to grab my keys and phone and then head to my car because it had been hit by a tree," senior Meg Keating said.
McGinnis was helping to control the situation.
"It wasn't as bad as I thought it would be, but it's still not good. Everyone was pretty calm about it, and Mr. McGinnis was helping everyone figure out what do," junior Mia Sassano said.
Although only four cars were damaged, some still need to be moved to remove the tree.
"I was taking pictures for yearbook and when I went back to class my teacher told me what happened. I had a gut feeling my car was involved because I usually park under a tree. I didn't get called down until I was in lunch. The one lunch monitor pointed at me, and my stomach immediately dropped.  When I got out to the parking lot, I was relieved to see my car was only inches away from getting any damage," Blackie said.
Although, some students weren't as lucky.
"The driver's side was virtually gone because of the damage that the tree did to it. The roof was damaged, and the force of the tree knocked my car over a few feet. The car wound up being totaled, " Thaler said. 
"My car was completely totaled. The sunroof had been smashed in and was laying in my driver's seat, a whole window was punched through by a tree branch, my passenger side mirror was knocked off, there were plenty of dents all along the passenger side and on the top of the car, and my windshield was cracked," Keating said.
Keating and Thaler called their parents to break the news of what happened.
"My parents were actually getting ready to leave for the airport when I called them. They were heading to Florida when I called and said they needed to come to school because a tree fell on my car. My dad was shocked, but my mom was super calm and not really worried about it. She was just glad no one was around, and no one got hurt," Keating said.
"My parents were relatively calm. They definitely weren't thrilled about the car getting damaged, but they were understanding that the incident was a complete accident," Thaler said. 
Thaler, Sassano and Keating are in the process of figuring out their insurance and how they'll deal with the damage.
"The process has been relatively straightforward. We are in the process of paying for the damages, and it is likely that my insurance will primarily cover the damages. At the moment, I'm not sure how much, if any, money will be paid out of pocket," Thaler said. 
"It has been a long process figuring out if it makes most sense to get a new car or to pay to fix the damage. We are still waiting to hear from the school's insurance to see if they will cover it. If not my insurance will," Sassano said. 
"The damage was dealt with fairly quickly. My mom was on the phone with the insurance company for about 30 minutes, and by the time the call ended, she was already given a cost estimate and some information about what to expect next. The school is not covering it because it was an 'act of God,' but thankfully our insurance covered almost the entire thing," Keating said.
After the news broke in the hallways, students took to Twitter to share their opinions on the event.
"When Altoona needed him most, he disappeared," senior Jack Hatch tweeted.
Hatch shared an image of cartoon character, Handy Manny with his tweet.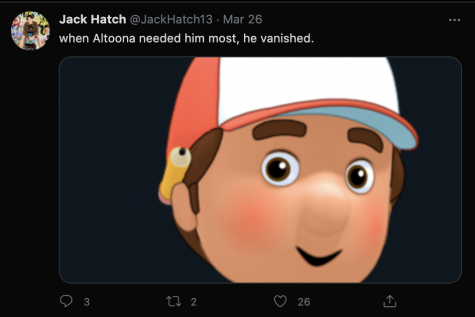 The tree was removed around 1 p.m. by Yingling's Tree Service.
"I saw them [Yingling's Tree Service] removing the tree when I was leaving for community service and seeing the tree almost completely ripped from the ground was crazy," senior Lydia Baum said.
"It took about an hour for the people to come and start cutting the tree away. I left school once my mom got off the phone with the insurance company. Mr. McGinnis was kind enough to let me just go home after all of that. Although I did not stay for the tree being cut down, my friends sent me videos at about 3:00 and my car was the last one there with just a little bit of the tree left, so it was about a three hour process," Keating said.