Golfing on the green with Sean Eakins 
Golf Strong, Go Long! Sophomore Sean Eakins talks about his golf experience
Eakins is a straight A, honor roll student, who also balances golf into the mix. Eakins is proof students can balance their sports life with their academic life.
Eakins enjoys golf because he doesn't have to rely on a team, and it's a relaxing sport to him.
 "I feel like I use it as a way to just escape from reality and just enjoy myself while I play it. It's like a therapeutic sport," Eakins said.
 He enjoys that he can play the game alone or with friends. 
"It's not necessarily a team sport, so you can just worry about yourself when you play because of how much of an individualistic sport it is and how you only focus on yourself when you are trying to get better," Eakins said. 
Eakins has a number of accomplishments under his belt. He has made the golf team top 10 every year since he started playing golf, Eakins also consistently shoots in the low 80's. 
"Once I came within two feet of a hole in one, but I've never actually made one," Eakins said. 
He is also in honors and AP classes with straight A's and still plays golf almost every night. 
"The way I keep my grades up and play golf so much is by doing the work to the best of my ability and making sure it's turned in on time," Eakins said. 
He also practices everyday on the green to get as good at golf as he can, and he golfs left handed. Putting left handed is very rare in golf, only about 5% of golf players golf with their left hand.
While Eakins thinks golf is unique because it's not much of a team sport, he also enjoys it because of how different from other sports it is. 
"The experience of playing golf is different from other sports because of the crazy amount of golf courses and different holes and environments,"Eakins said. 
He also finds it interesting because whoever has the lowest score in the end wins.  
Eakins enjoys playing golf solo but does play on the school golf team. Trent Meyers and Danial Batrus are two of his friends he plays with on the team; he also goes with his dad to the green to practice sometimes. His coach Eric Kozac is a "golf nut" Eakins said. 
"He golfs like crazy ;he has hit something like over 3000 holes," Eakins said. "I Kozac's golf tips and positivity." 
"If you like to get outside and don't play sports but would like to, I recommend golf!" Eakins said. 
About the Photographer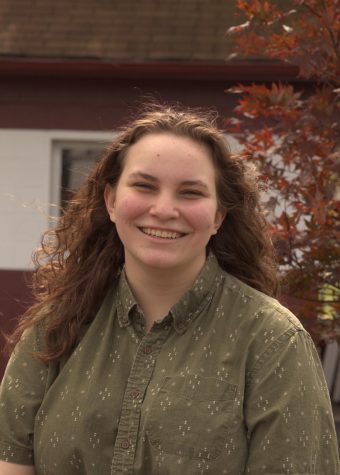 Sonia Yost, Reporter
Hey there stranger! My name is Sonia Yost, and this will be my third year writing for the newspaper. Last year I was an associate editor, and I'm thrilled...