Teachers, children share school experience
For some high school students, their experiences can seem a little different than normal because they have a parent as a teacher. There are pros and cons, but these students look more at the pros.
English teacher Autumn Barry-Kyle taught her daughter, senior Cassandra Kyle, when she was in ninth grade.
"It was so much fun having my mom as my teacher since we are so close, and a lot of my friends were in my class as well. It was always a fun time! The only downside was my mom being a lot harder on me than everyone else in my class," Kyle said.
"Teaching her in ninth grade was a great experience! I had coached her in previous years, but the class setting was totally different. It added a whole other dimension to our relationship," Barry-Kyle said.
Senior Seth Brunnhuber doesn't really see his mom throughout the day, but there are still some advantages of her being in the same building.
"I usually don't see my mom throughout the day because I don't go by her room, but when I do, it certainly doesn't hurt to see her," S. Brunnhuber said.
Algebra teacher Beth Brunnhuber has never taught either of her children in class.
"My daughter graduated in 2017. This year was the first year I covered one of my son's classes, but it was only study hall. Before the pandemic, I chaperoned quite a few of his band field trips. It was nice seeing him having fun plus I also had other students in my class who were in band, so I got to see them outside of math class," B. Brunnhuber said.
Music teacher Kelly Sipes teaches both of her kids, senior Emily Latten and junior Tyler Latten, this year.
"My daughter has been in both my vocal ensemble and chorus classes throughout her high school years. My son is currently in my introduction to piano class. It felt a little strange the first day I had each of them in class, but after that they really just became students I have in those class periods. At times, though, I know I've been harder on them because I never want others to think they would get some kind of special treatment. At times, I know I have probably embarrassed them; but, hey, that's a mom's job, right?" Sipes said.
T. Latten had a fun experience in his piano class this year, even if it seemed embarrassing. 
"Recently, on my birthday, my mom taught the whole class 'happy birthday,' and they all played it for me. How fun," T. Latten said.
E. Latten helps her mom out during the school day.
"I have to come in early in the mornings since my mom has to get ready for the day. I also help out with some small tasks around her classroom when I have free time before and after school. It is definitely convenient for me when I forget to have my parents sign paperwork at home," E. Latten said
Foreign language teacher Mark Petrarca thinks it is really nice to teach in the same school his daughter attends. 
"I get to spend a little more time with her, and it is easier to follow her academic progress and her extracurricular activities, since I know most of her teachers and extracurricular advisors. I haven't taught either of my daughters; my eldest graduated in 2018. Both of them felt a little awkward to go from a father-daughter to a teacher-student relationship, and I didn't want students to think that either of my daughters was getting special treatment by the virtue of being my student," M. Petrarca said.
Sophomore Angela Petrarca has gotten used to seeing her dad in the halls.
"At first, it was really weird to see my dad in the hallways but after a while I just got used to it. I have to come in earlier than most of the students, so my dad can get here on time which really stinks because I am not a morning person at all. Sometimes, it can be awkward when people complain about his class or talk to me about it; I just smile and nod," A. Petrarca said.
About the Writer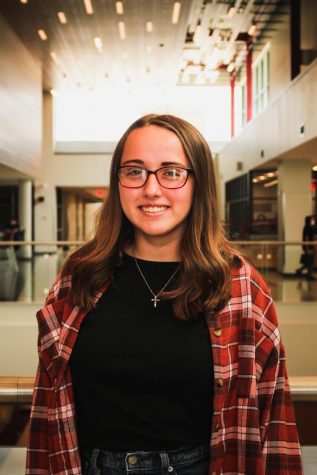 Destiny Montgomery, Editor in Chief
Hello, I'm Destiny and I'm a Senior at AAHS. This is my third year writing for Mountain Echo. I wrote for the AAJHS Livewire during my freshman year. My...