Reading workshop changes English instruction
Hang on for a minute...we're trying to find some more stories you might like.
A new method of teaching has been introduced this school year: reading workshop. The new way of teaching is a simple structure that includes mini lessons, independent work and a collection of books for students to choose from.
Literacy Coach Kelli Livermore believes that this new method will help students by being more hands on than regular curriculum.
"The reading workshop has a simple, basic structure. The reading workshop includes minilessons, independent work time, conferring in small group work and book clubs, mid-workshop teaching and shares during which partnerships or clubs work together. The predictable structure supports the changing and complex work the students will do, and it allows the teacher to tailor each day's teaching to the learning needs of their students," Livermore said.
Reading workshop is different than any method of teaching used before. Students have more freedom, in terms of what they read in English class, through choosing their own books.
"This practice of instruction believes that kids who have access to great books become engaged, skillful readers. We believe that if we can provide a collection of amazing books for our students, we will be taking an immediate, crucial step toward them becoming engaged, voracious readers. When students have interesting books to read and time to read them, they read more, and more matters. Students who read regularly grow as readers and develop the stamina to engage with complex ideas over hundreds of pages; Stamina they will need in the workplace and college. This practice believes that success in reading is built on engagement which leads to a volume of reading – an important foundation for tackling complex texts," Livermore said.
"Book choice and access is the key to success with this method, but I also appreciate its sharp focus on simplicity and its step-by-step guide to analysis. The form is simple and practical, yet at the same time, it holds students accountable for their own learning. Students will be developing skills that will help them be successful in life such as self discipline, self regulation, collaboration, organization, etc." English teacher Nicole Fuller said.
Fuller, a participating teacher in this program, says this method of teaching "is a different kind of reading," and it will motivate students to read more than they have in the past.
"The more reading [students] do, the more vocabulary they acquire, the more analytical they become about a text, and the more they learn about the world and themselves. Their reading skills as a whole will gradually improve, and they will be more capable of tackling difficult texts on their own," Fuller said.
English teacher Megan Lamb says the concept of choice is what makes this method successful.
"Students who maybe did not previously see themselves as a reader because they never had the opportunity to read something relevant or relatable to them will now find themselves lost in a book and hopefully with a new mindset about reading," Lamb said.
Livermore hopes that the reading workshop will make students develop reading habits that will aid in success after high school.
"We believe we own a reader's improvement in the year we have them. The [reading workshop] curriculum is a balanced approach to ELA. It includes choice independent reading and whole-text reading. A reading identity matters. Momentum matters. Practice matters. We set goals for independent reading: increase the volume of reading; increase the complexity of their reading; develop allegiances to authors and genres. By increasing the volume of reading we hope to prepare students to navigate a changing world as well as to develop empathy and understanding. In a democracy, readers are important," Livermore said.
Other teachers that are involved in the reading workshop, such as Fuller, enjoy being a part of the reading workshop team because they love to read.
"I read a lot in high school and college, but it was very rarely any book that I chose, and I didn't enjoy many of them. I struggled through them, which was extremely helpful in its own way; however, when I got to choose my own books, I was motivated to read more. Reading independently helped me develop the love for reading that I have now, and as an English teacher, I've always wanted to instill that same love for reading into my students," Fuller said.
English teacher Megan Lamb, another participant in the reading workshop, joined the program because she likes the workshop model and the ideas that go along with it.
"I wanted to be a part of the reading workshop because I liked the idea of shaking up how literature is typically read, taught and explored in an English classroom. What really sold me on the workshop model; however, is the concepts of choice, time and flexibility. Students get to choose the book they want to read, are given time to read in class and are applying several different reading strategies using this text, all of which could not be accomplished while reading a whole class novel," Lamb said.
Some of the most popular books that students read include "The Hate U Give," "To All the Boys I've Loved Before," "Ender's Game," "Harry Potter and the Sorcerer's Stone," "Long Way Down," "Gym Candy" and "Everything, Everything."
About the Writer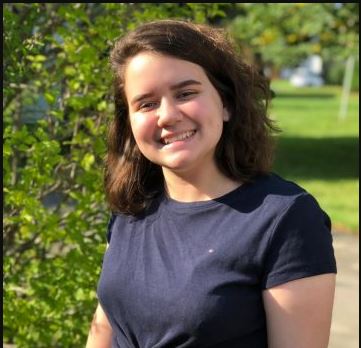 Nina Cipriani, Editor in Chief
My name is Nina Cipriani, and I am a senior at AAHS. I enjoy hanging out with my friends and watching Netflix when school and work are not occupying all...