New teachers join school staff
Part two in a two part series
Hang on for a minute...we're trying to find some more stories you might like.
This year welcomes not only new students, but also new teachers. Eleven new teachers joined the staff.
Chris Woloszyk
Chris Woloszyk is new to the school this year as a science teacher. Woloszyk teaches for both the Altoona Cyber Academy and the Kimmel Alternative School and is only at the high school from 7:30 a.m. to 8:30 a.m.
Woloszyk came to work for the school for many reasons.
"My wife grew up here, and we moved back from Pittsburgh several years ago. Since arriving, Altoona has come to be my home, and I felt the need to give back to the community that welcomed me," Woloszyk said.
Another reason for Woloszyk was the size of the student body.
"I hope that my teaching and efforts to brighten the futures of young people will have a greater impact than at a smaller district or private school," Woloszyk said.
Woloszyk knew he wanted to be a teacher after having a opportunity to tutor fellow students in college.
Formal training and experiences up until now have strengthened Woloszyk's drive. Woloszyk teaches science because of the subject itself.
"Science has always been my favorite and strongest subject; therefore, after working as a materials researcher in industry for years I knew that I would be able to use my experience in real science to inform my teaching and lessons as an educator," Woloszyk said.
Woloszyk believes the students he teaches can expect to learn something new, solve some mystery or riddle of nature or see demonstrations of scientific principles in action.
To set his class apart from others, Woloszyk is to attempt to instill that mindset of inquiry and curiosity.
"I actively pursue individual student interests and find ways to connect their lives outside of school with the practice of science which I believe this makes the experience of my students truly unique," Woloszyk said.
Woloszyk has many interests outside of teaching at the school.
"I am an avid outdoorsman in my time outside of school and enjoy hiking, fishing, camping, backpacking and pretty much any other activity that can be done outside," Woloszyk said.
Other interests for Woloszyk include hitting the slopes at Blue Knob in the winter with his wife, staying current with various fields of science in recent articles and books, making and dabbling with electronics and curling up with his four cats on the cool fall evenings.
Amanda Kelly
Amanda Kelly is new to the school this year as a ninth and eleventh grade English teacher. She teaches at the high school as well as the junior high.
Kelly knew she wanted to work in the Altoona District.
"I live close by in Ebensburg, and I knew Altoona was a great district. I wanted to work with the junior high and high school students," Kelly said.
Kelly has always known she wanted to be a teacher from the start of her education.
"I've wanted to be a teacher since first grade. I asked for a chalkboard for Christmas that year, and I used it to teach my parents and grandparents my lessons and school work," Kelly said.
Kelly teaches English because of the inspiration she got from her English teachers when going to school.  Kelly shares what she currently reads with her students during reading workshops and includes book talks and book recommendations.
"I always treat each day as a brand new day and want others to have a great experience, as well," Kelly said.
Celebration days are an idea Kelly is creating for her reading workshop where students will participate in reading activities at the end of each unit and be able to celebrate students reading accomplishments and goals.
To make this English class different from others Kelly creates a positive atmosphere.
"I want students to be able to share their reading experiences and be able to make connections with their characters," Kelly said.
Kelly has many interests outside of teaching at the school.
"I enjoy reading and crafting; therefore, I run my own craft business," Kelly said.
Kelly makes her own handmade jewelry, wreaths, signs and primitive decor.
Other interests include watching her favorite type of movies and TV shows which are mystery, suspense and horror.
Jill Trumpbour
Another teacher teaching at the school is Jill Trumpbour. Trumpbour teaches family and consumer science classes for juniors and seniors.
Trumpbour decided to teach at Altoona for many reasons.
"I was working with the Elect program, and I liked working with the teachers and students at this school," Trumpbour said.
Trumpbour knew she wanted to be a teacher after having kids herself.
"After I had my own kids, I knew I wanted to work with kids and before kids, I worked at Penn State and loved working with those kids," Trumpbour said.
Family and Consumer science was a subject Trumpbour wanted to teach because of her help with teen parents.
"I was working with teen parents and loved working with them as well as  teaching them how to take care of babies," Trumpbour said.
Trumpbour tries to make her students do a variety of projects and make ideas related to the real world.
To make the family and consumer science class different than others, Trumpbour makes students feel welcomed.
"I hope they feel comfortable and have them feel safe as well as welcomed and learning while going to different lessons," Trumpbour said.
Trumpbour does not have many interests outside of teaching at the school.
"I have three kids and spend a lot of time going to sports and other events to support them which takes up most of my time," Trumpbour said.
Chad Jones
Chad Jones is another teacher joining the school this year. Jones helps with the leaning support.
About the Contributor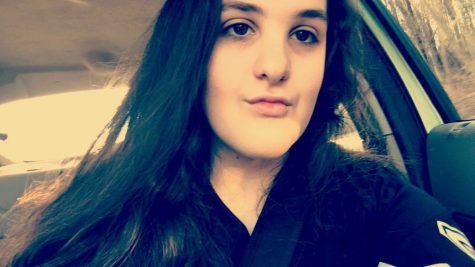 McKenzie Quirin, Reporter
I am an eleventh grade student at Altoona Area High School. I enjoy hanging out with my friends, babysitting my cousins and watching movies. I am a part...