Humbertson leaves mark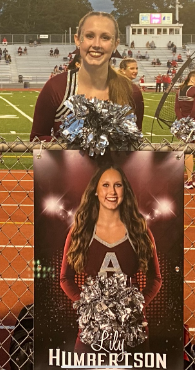 Senior Lily Humbertson, the Lioneer Captain, is graduating this spring and will no longer be a member of the Lioneer Dance Team. She has been on the team for three years and was chosen as captain for the 2021-2022 school year. 
Humbertson has been dancing on the team since she was a sophomore and is preparing to leave her teammates after the school year ends.
"The bond between me and my teammates has truly grown over the years, I would call them more of my sisters than my teammates at this point," Humbertson said.
The Lioneer Dance Team has been around for numerous years at the High School and provides opportunities for leadership skills.
"I've always liked to lead my teammates and friends in a positive direction, so I really had fun with the choreography and teaching everybody as their captain," Humbertson said.
She works her hardest at preparing dances and working efficiently in order to offer her best self to the team.
"Lily helped to guide the team this year because she is a very caring person and a great model of consistency. She has an undeniable passion for dance and treated all her teammates with respect," Coach Julie Schmoke said.
Humbertson has contributed to the achievements, success, comfort and future of the dance team.
"Lily has a very unique personality that almost counteracts itself. On the outside she is extremely quiet and reserved but when she's comfortable, she's unbelievably outgoing. Lily will never willingly show emotions unless truly upset. She has a mother-like personality that everyone can find comfort in," Emma Musselman said.
She is one of the most involved captains as of the past few years since she is so close to all of the members.
"Her graduation is very bittersweet. I want her to move on and gain new experiences, but at the same time, she's family. Her graduation means that I will no longer see one of my best friends and a person I grew up with inside of school and out everyday," Mia Noel said.
Humbertson's last football game and basketball game were completed, so it appears that her work is done. But, her work isn't over, she prepares dances and skills for the 2022-2023 dance team tryout.
"As a future team member, you have to try your hardest, never give up, and have fun with it," Humbertson said.
Humbertson plans on dancing through college depending on her class schedule and freetime. It isn't quite yet that she leaves her dance life.