Freshman track and field jumper follows father's footsteps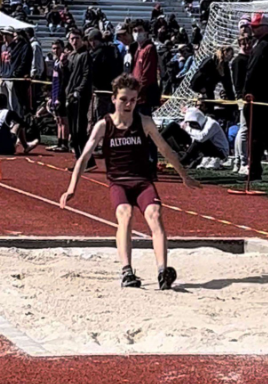 With his dad breaking state records in his high school career, CJ Romanowicz has big shoes to fill in his upcoming track and field seasons.
Romanowicz has been involved in track since seventh grade. With his first season being cut short due to COVID-19 and his second season being socially distanced and masked, this is Romanowicz's first regular season. Romanowicz is involved in the field part of the sport more than the track. Romanowicz competes in the triple jump and the long jump. 
"My personal record for long jump is 16'3" and triple jump is 34'10"," Romanowicz said. 
Romanowicz hopes to increase these distances throughout high school. 
With Romanowicz's dad, John Romanowicz, breaking state records in 1986 with a length of 46'3" in the triple jump and 21'8" in the long jump, he is inspired to continue his career in hopes of getting personal records just as high.
The track and field team has been having a good season overall, according to Romanowicz. 
"It hasn't been as good as I want it to be, but it's also not that bad either. I mean, the team is doing well but not me," Romanowicz said. 
Even though his season has not been the best, Romanowicz believes he did well at one specific meet on April 9, 2022. 
"I think my best meet was the Altoona Stache Classic," Romanowicz said.
 Romanowicz hopes that he can continue to grow in his track and field career and break his personal records and aim for his dads.