Wilber runs through junior year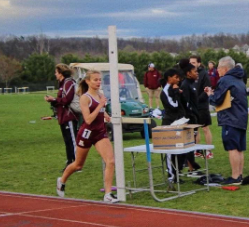 Junior Reese Wilber has had many experiences in running such as running track for five years. To stay in shape for soccer, she decided to run track in seventh grade and running has become a big part of her life now as a junior.
"I started doing long distance because too many people were doing sprints and I thought that even if I wasn't good at least it was different," Wilber said.
After playing many sports, running stuck with Wilber.
"I joined track to stay in shape for soccer," Wilber said.
Running in middle school to high-school takes a lot of time and thought.
 "My favorite part about running track is the experience and the people it brings you," Wilber said.
Most people who play a sport have a person who inspires them.
"Elle Purrier St. Pierre is my biggest inspiration for running because she grew up in a small town with limited opportunities and is now an olympic runner. My dad is also probably one of my biggest supporters; he's just there for me all the time and takes a lot of time to understand track," Wilber said.
While running track in the spring, she also runs cross country in the fall making many pr's. Last cross country session Wilber qualified for states for the third year in a row placing top 100 in 95th place.
"My most major injury I had was running at States; I broke my toe," Wilber said.
Running both track and cross country brings a lot of memorable meets.
"My most memorable track meet was district 6 champions because we won by a half a point," Wilber said.
This year Reese made her mile pr while running indoor.
"My PR overall is 5:24 for the mile over the indoor track season in Youngstown, I like doing the mile but lately i have been enjoying the 2 mile"
Through the ups and downs of running Reese has made an impact on the younger runners.
"I've known her since seventh grade, and she's very dedicated to her sport. If you ever need advice go to her, she is there for you when you need her. She's been a very good varsity athlete throughout all the years she's been running," freshman Alana Rinehart said.