Marasco starts coaching career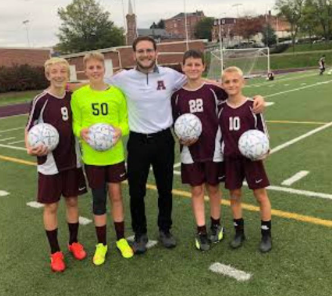 There are different coaches who also teach in the high school doing their job, balancing their work and athletics. One of the newest coaching teachers in the school is coach Caleb Marasco who started coaching Junior High boys soccer. 
This was his first year coaching and according to Marasco it was a struggle for him and the team at first but he was able to balance everything and start to gel together. 
"Balancing coaching and teaching can be difficult; however, if you are prepared enough in advance for teaching, you don't have to worry about balancing or worrying about what comes next in class. I think both coaching and teaching go hand in hand though; there are a lot of similarities between the two," Marasco said. 
Marasco is trying to continue his furthering his learning while balancing coaching and teaching geometry to sophomores and juniors.
"I went to Penn State and currently go to Oklahoma State University (online) for my masters," Marasco said. 
According to Marasco, he is trying to make the soccer program better than what it was and setting goals for himself to reach with his team. 
"My goal for the team is for the kids to have a good time and win. We want to create a program that starts before middle school. That way, the kids know and learn how to play with each other through middle school and perfect it in high school.," Marasco said.
Marasco got feedback from his athletes as well, showing them how soccer is supposed to be played and also teaching them to never give up. 
"Some great qualities from coach Marasco is how well he handles bad situations, his way of helping a not so experienced soccer player build their way up to understanding the full game of play," 8th grader Jace Black said. 
He also gets players to engage in training and is starting to get the team back together into his program. 
"He is different from other coaches because of the way he coaches. He always finds a way to make training entertaining and fun and interacts with the players and I feel like it builds strong relationships," Black said.
He was always involved in soccer, playing for the high school and volunteering for the high school team at times as well. 
"I have played soccer my whole life and couldn't wait to start coaching. I would have started as a volunteer on the high school team but when the position opened up, I figured I would apply for it. It has been such a great experience for me and for the kids so far," Marasco said.
He also has had a great experience with the team this year and is excited to move forward and keep the program going while making sure his teaching doesn't get affected. 
 "My favorite part of coaching is teaching the kids how to play soccer. It was amazing to see the progress the kids made. We lost the first game of the season to Bedford 9-1. It crushed us, but also put us into a realistic perspective. We weren't there yet. We had a rough record overall but we got to play Bedford again for the last game of the season and lost 3-2 and Bedford went undefeated last year. I know we'll get there next year and the kids know it too. My favorite part about teaching and coaching in Altoona is that it is home to me. This is where I grew up playing and going to school. I want to give back to the place that gave me so much. I truly love the people I teach with and the students I teach. Being able to teach and coach in my hometown school is a blessing," Marasco said.