Boys' volleyball team wins home opener against Central
On March 23, both the boys' junior varsity and varsity volleyball teams won their opener game against Central. The junior varsity team won two sets with the score of 25-15, and the varsity team won three sets with the scores of 25-4, 25-14, and 25-10. The next home game will be held on April 4 against Central Dauphin. 
Head coach John Saboe began practices with both teams on March 6. 
"We have been practicing everyday," Saboe said. "We had two scrimmages before our first game."
Saboe had full expectations for the teams to win. 
"The practice we have put in and the desire to win that this team is showing really paid off," Saboe said. 
For the remainder of the season, Saboe wants to see each of the players continue to improve their individual skills.
"Overall, If all of our players are able to continue to grow and develop in the game, the team aspect of the game will grow along with that as well," Saboe said. 
Junior Caleb Fries was proud of both JV and varsity in the home opener.  
"It was really cool to see the growth of both teams since we started practicing in the beginning of March," C. Fries said. "Being able to teach the newcomers about volleyball has been such a privilege, and I cannot wait to see how much they grow. The game itself was a very solid showing that is definitely a confidence builder moving forward. I am very excited for what is in store for this team and I see a lot of success ahead."

C. Fries is going to ensure that the team comes together in not only good times, but bad ones as well. He was named captain this year after the previous captains had graduated. 
"I will always put in the work and the hours to be successful and perfect my skills, but it is also my job to bring the team together into a tight-knit group that can take on anything," C. Fries said. "I always will emphasize that volleyball is a team effort, and a team is only as strong as its weakest link. I am personally going to do whatever it takes for the team to take the path to success together, as one family." 
According to Junior Noah Fries, winning was a confidence booster for both the teams. 
"It was absolutely amazing to be able to win our home opener for our fans and parents and for our players in general," N. Fries said. "Winning by that many points was great and should continue throughout the entire season."
N. Fries expects the team to grow as they continue the season. 
"There aren't going to be many more 'easy' games like we had in our opener, with our schedule getting much harder from here on out," N. Fries said. "I do expect, however, for us to continue to play as best as we possibly can and win as many games as we can as we look to win a District Championship in May."
Junior Mycah Long practiced and focused on the upcoming games during practices. 
"We focused on things that needed to be improved for us to get the win, like working together as a team, getting control of the ball and working on positions that need work," Long said. "We talked as a team, and we all decided that we wanted to start the season off right, with a win and hoping for more to come."
Long plans to focus on the little things as a team that still need work  
"If we do all these little things and work together as a team, it is going to be a fun season," Long said. "There are going to be some challenging teams in our division since we are in the MidPenn, but there is nothing that we can't handle together as a team."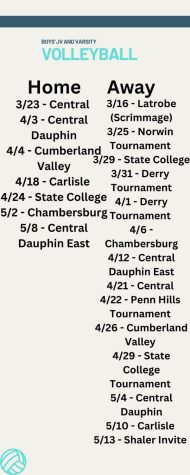 Leave a Comment
About the Contributor
Jaidyn Palladini, Associate Editor
Hello, I'm Jaidyn, and I'm a junior at AAHS. This is my second year writing for the Mountain Echo. This is also my second year as an Associate Editor....