Mixed emotions form as spring sports begin
With winter sports coming to an end, spring sports are around the corner. Athletes and coaches begin to prepare  for the upcoming season. Former Coach Caleb Marasco and track and field runners Hailey Kravetz and Mary Stoltz shared their thoughts. 
 Starting the season with Stoltz
Sophomore Mary Stoltz has been running track since she was in seventh grade. She feels excited as the season approaches, but she has some things to prepare before the season, such as her running. 
"I'm running at practice with my team. I also do drills that help me run faster. I'm fueling my body, staying hydrated and stretching," Stoltz said.
Stoltz is excited for the upcoming season. She believes she will have a lot of opportunities to perform well both individually and as a team, as well as to take on another responsibility.  
"Track has impacted my life by having another responsibility besides school. It takes up a lot of time in your life that you have to commit to," Stoltz said. 
She would much rather be in season than off season; however, she believes that breaks are nice, even if they are boring at times. However she looks forward to one specific thing: big upcoming meetings. 
"I love the environment [of a meet]. Yes, we focus on individuality, but we do it as a team," Stoltz said.
Catching up with Kravetz
Junior Hailey Kravetz has experience with track as she's running into her fourth year with the sport. She has planned her goals for this upcoming season.
"I'm a little nervous but very excited, and I have big goals for this season. I want to get the school record for the 300 meter hurdles. I want to win Districts and place at States," Kravetz said. 
Kravetz enjoys the individual component of the sport. Although it is a team sport, athletes can focus more on themselves rather than as a whole team. 
"It created a safe space, in a way, to get away from distractions, and I met a lot of my good friends and coaches," Kravetz said. 
To keep herself motivated for the upcoming season, Kravetz reflects back on her time from last season and sees what she can improve on. 
"I don't really have an off season because I go straight from soccer to indoor track to outdoor track, but in the week between indoor and outdoor I kind of use it as a rest period to keep my body from overuse. I also think from the mental aspect of sports I just need that time to relax.  It definitely made me more mentally strong, physically strong, outgoing and determined," Kravetz said. 
Moving on with Marasco 
Former track coach, Caleb Marasco, coached track for the two years he has been teaching at the high school. He no longer coaches track but still coaches and plays soccer. 
"I have played soccer since I was about four years old. I ran up until I was in tenth grade, and I got more involved in musicals, so I wasn't able to run track," Marasco said. 
Marasco is currently pursuing his master's degree in statistics, as well as helping out with the musical.  He decided to stop coaching track due to lack of time. 
"The past two years I have helped out building the set. I teach a little bit after school. A lot of my time this year has been consumed by the play. I knew I wouldn't be able to be on a track every day," Marasco said. 
According to Marasco, coaching is like teaching, but it's more fun. 
"Not everyone enjoys math. The people who come out and play sports and want to be there. That's kind of their way to escape anything else that is going on in their lives," Marasco said. 
Marasco was very extroverted growing up, and, according to him, not much has changed. 
"I think any sport teaches you how to work together with other people. That's a huge thing for me. Sports gave me that one way to come together with a team. Coaching is great too because now I get to give back what I learned. Everything I learned is going out to young kids who don't know certain things or aren't as experienced. Sports really helped me be able to connect to people and to learn how to work as a team," Marasco said. 
Leave a Comment
About the Contributor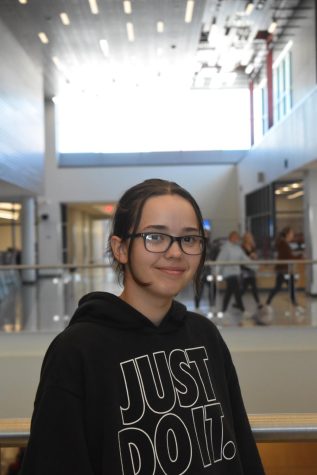 Abigail Shearer, Reporter
Hi I'm Abigail, but you can call me Abby. This is my third year writing for the newspaper as well as my second year being on the Mountain Echo Newspaper...