Clubs sell flowers, candy for Valentine's Day
Hang on for a minute...we're trying to find some more stories you might like.
Feb.14 is fast approaching, and AAHS is prepared. The bridge is full of Valentine's day themed sales: the Junior Class Executive Committee is selling candy grams, Girls League is selling flowers and Future Business Leaders of America (FBLA) is selling soda cans. All of the clubs' sales occurred the week before and the week of Valentine's Day.
The Junior Class Executive Committee sold candy grams on the bridge Feb. Feb. 11-13. Adviser Nichole Harris said the committee sells the Valentine's day candy because everyone loves lollipops.
"We've sold candy grams on the bridge for Valentine's day for a few years now. They are easy for us to make, and we typically can turn a large profit since they are very cheap to buy. Additionally, almost all students like lollipops, so we really couldn't go wrong with them," Harris said.
Harris chose to sell the candy grams to raise money for the UMDF.
"We are selling the candy grams to raise money for the United Mitochondrial Disease Foundation. We will be having our annual Mito Week in March to continue to fundraise, and the candy grams typically give us some start-up money for larger fundraisers in March," Harris said.
Harris hopes to have even more of a turnout next year by starting to sell the candy grams earlier.
"We plan to continue having this sale, but next year, we will definitely start selling them earlier. We planned for three days of sales and then one day for delivery, but with the snow day, we are cut down to two days. I would also like students to sell on the bridge in the mornings, since lunch is often a hectic time of the day. We are hoping that tomorrow is a busy day for sales," Harris said.
Girls' League sold flowers on the bridge Feb. 7-12. The flowers were $2 per flower, and the flowers were color coded for each message a person wants to convey. The red flower means "I love you," the pink flower means "I like you" and the white flower symbolizes friendship.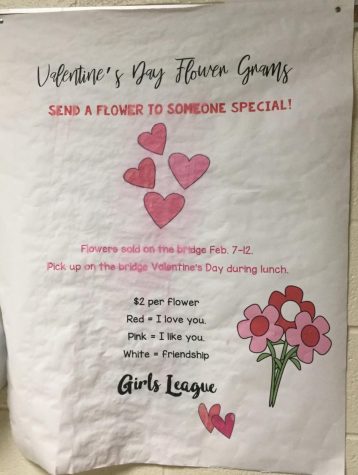 The club wanted to sell flowers because to celebrate Valentine's Day.
"It has been a tradition for the last few years that the students look forward to," Adviser Megan Lamb said. "Girls League wants to celebrate Valentine's Day and raise money for the teen center." 
Lamb hopes that the sale makes the school a more positive place.
"The hope is to spread positivity to peers and around the school," Lamb said.
FBLA sold soda cans on the bridge during lunches Feb. 4-13. The "soda" Valentine's used punny phrases to demonstrate the love for their Valentine, including: a Mountain Dew with a Valentine that reads "I <3 everything about dew!", a Yoohoo drink with a Valentine that says "Yoo-Hoo I love you!", an Orange Crush soda with a Valentine saying "I've got a crush on you!", a 7up with the Valentine "You lift me up" and a Pepsi with a Valentine that reads "You put the pep in my step!"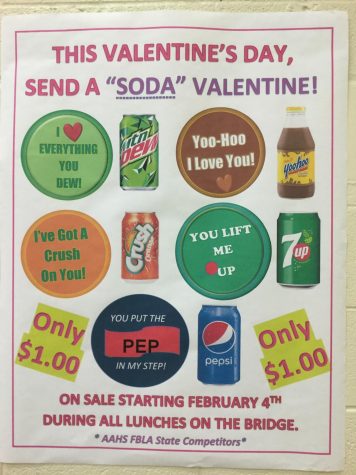 The club did the sale to raise money to go to States this year.
"States are April 7-10," Adviser Nanette Anslinger said.
Thompson's Pharmacy contributed to the sale as well.
"Three of the drinks were donated by Thompson's Pharmacy," Anslinger said.
Love is in the air, and the Valentine's day sales are helping students feel the love. For the Girls League sale, students may pick up their flowers on the bridge during all lunches on Valentine's day, Feb. 14.  Be on the look out for passes and other delivery information for all clubs.
About the Contributors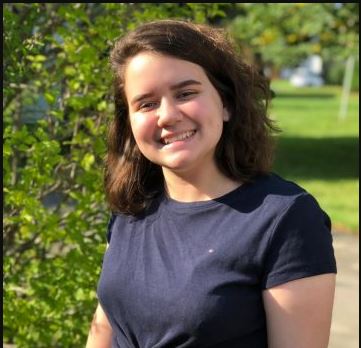 Nina Cipriani, Editor in Chief
My name is Nina Cipriani, and I am a senior at AAHS. I enjoy hanging out with my friends and watching Netflix when school and work are not occupying all...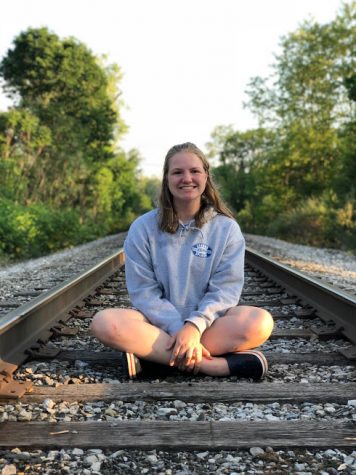 Marissa Kessler, Reporter
Hi!  I'm Marissa, a senior reporter for AAHS Mt. Echo.  I am currently considering going into the military before taking on my post secondary education...