Coronavirus causes issues with custody arrangements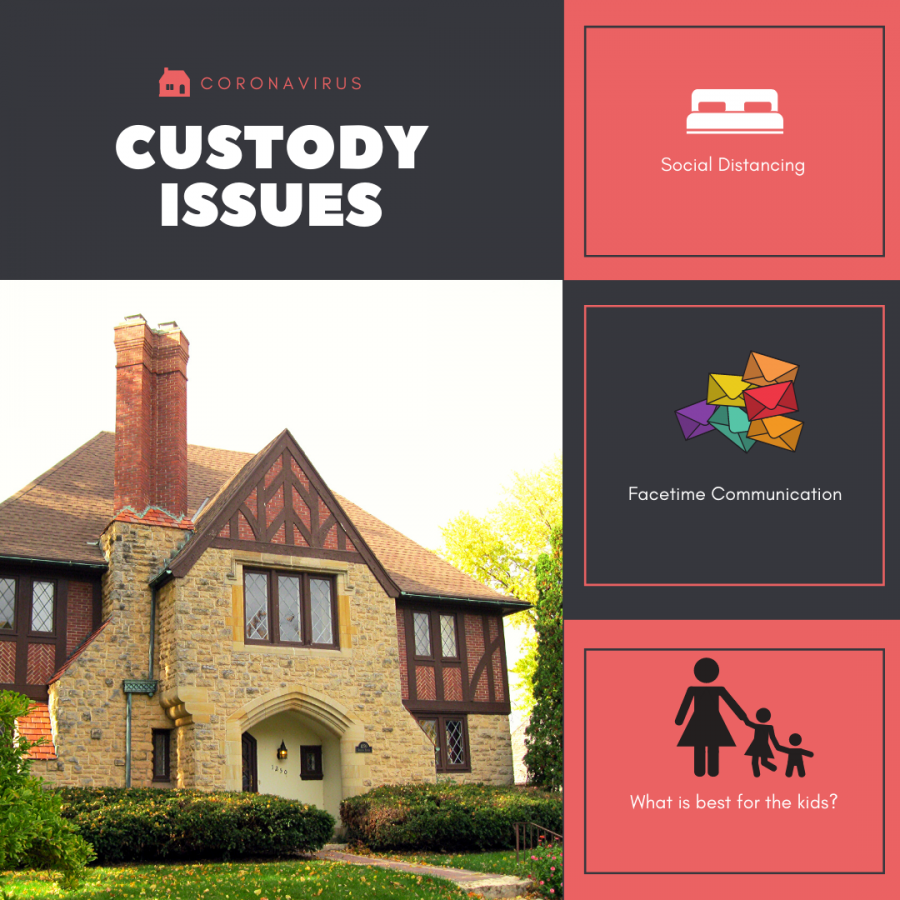 I have a custody arrangement. Under normal circumstances for me and others traveling to two homes is normal. With the situation created by the coronavirus, parents are forced to make new choices and decisions about how to proceed.   I live with my grandma, and luckily am still able to still see my two parents. At first, with the original arrangement, I called both of my parents a lot and stayed in touch. But now I get to see them. I know it can be hard for children who can't see their other parent. My younger sister can't, and she misses her father very much. 
In Blair County, President Judge Elizabeth Doyle said in an order made on March 23 that if the governor ordered a "shelter in place order," children with custody orders should remain in the care of whoever has full custody of the child. Because of that potential order, Doyle ended all custody exchanges in Blair County when the governor did indeed place that order.
Since March 23, the order then changed. As long as the primary guardian would feel safe for the child leaving the house to see the non-custodial parent, and as long as that parent is taking the appropriate precautions for COVID-19, the child will be allowed to follow the custody order.
According to the Altoona Mirror story, "Judge clarifies custody ruling" posted on April 12, "In the follow-up, custody exchanges are permitted as long as those involved discuss, agree and assure each other that they: understand the risks associated with COVID-19 infection and illness, will practice social distancing during custody exchanges and will take personal responsibility for any consequences resulting from a custody exchange."
"I can see my 15-year-old because her Grandma has custody, and she feels it is safe for her to come over. I have custody of my three-year-old, and she talks to her dad through calls because we don't have communication, so I don't know if he takes proper precautions to be safe from the coronavirus," Altoona resident Carrie Wheaton said.
Another Altoona resident, Renee Rupert, is also letting her three-year-old son visit his father.
"In my case, I am letting him see his father. I'm allowing because he agreed to take the same precautions that I am taking at my house. From not taking him to stores, to keeping things wiped down and also avoiding people that are not him or his fiance," Rupert said.
Families are worried about young children who can't see the other parent. For Rupert, that is one of the biggest reasons she is letting her son see his father.
Parents expressed mixed feelings about sharing visitations.
"I think it is okay for children to see the other parent only if the other parent would practice the safety precautions to keep the children safe. Children are the main important factors between two parents, and they should agree to come up with a plan," Rupert said.
Doyle also encouraged call, text and other types of communication for children and non-custodial parents.
"For parents who can not see their child or children, they could FaceTime or even call every day. I think just so that the child or children know that they are thinking about them and want them and the family they live with to stay safe, they will be happy," Wheaton said.
About the Contributor
Destiny Montgomery, Associate Editor
Hello, I'm Destiny and I'm a junior at AAHS. This is my second year writing for Mountain Echo. I wrote for the AAJHS Livewire during my freshman year....