Ninth grade athletes move up to high school level
As the freshman class transitions into high school, ninth graders are now taking part in high school level sports. The school made this decision at the end of the school year and this affected the ninth graders. Some athletes may get nervous when moving to a higher ranked setting for sports. The expectations get higher as well as the competition becoming more advanced.
"For me it feels more serious and pressured because we are playing in the Mid Penn, which is a higher, more challenging level of volleyball. On the other hand, it is lots of fun, and I love the faster paced games," freshman volleyball player Jaiden Krull said.
As the years go on, the experience athletes of all sports have becomes greater, giving many players a sense of excitement due to their improvements. Although they feel more confident in their athletic abilities, they find that nervousness comes into play with being placed into a new environment of competition.
"I think that at junior high you always play to the level that the people you are playing with are at. When we moved to the high school, we got to play with team mates that were a lot better, so we all improved a lot," freshman volleyball player Sydney Stroup said.
"It feels a little nerve wracking because you have to play for your position, and if you mess up once you can lose that starting spot. Going out on the field with varsity was amazing. We had a crowd not cheering [for] one person specifically, but they cheered for the whole team," freshman football player Evan Boose said.
Athletes will find that sports will get harder as time continues, but their hard work and determination all pays off whenever they hear those loud cheers from the crowd.
"It's definitely a bit more pressuring, but I love being a part of a team and feeling like I'm a part of something," freshman tennis player Olivia McMinn said.
"The high school band feels a lot more united since there's so many traditions in it, and while high school band has more pressure than junior high, it just makes playing in the games more worthwhile," freshman band player Julia Kline said.
About the Contributor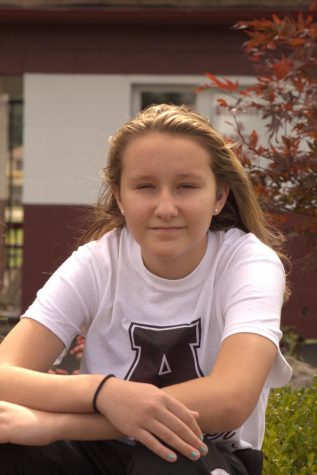 Amy Dean, Reporter
Hi, welcome to my page. My name is Amy Dean. I'm 14 years old, and a freshman at AAHS. I was born and raised in Tampa, Florida. Then I moved to PA when...