Students give opinions on Halloween this year
With this year's conditions, Halloween parties and celebrations have been cancelled, minimized or replaced with COVID friendly activities and guidelines. Some people are choosing to stay at home and participate in activities they enjoy doing for Halloween while others are choosing to celebrate the Halloween spirit by Trick-or-Treating. 
Trick- or-Treat Night hasn't been cancelled in Blair country this year. It's scheduled for Thursday, Oct. 29 from 6 p.m. to 8 p.m.
"I personally don't think it's a good idea to go to Trick-or-Treat this year. There is way too much contact with giving and receiving candy. The amount of people you visit and get in touch with is concerning," sophomore Eli Peteuil said.
Sophomore Brook Thomas disagreed with Peteuil. 
"I think it's a good idea to trick or treat this year because as long as we wear masks, I think everyone should have the right to go outside of their own house," Thomas said. 
The Altoona Mayor Matt Pacifico reminded residents to wear a face covering and to sanitize hands if going Trick-or-Treating. 
"Although I'm not going to trick-or-treating, I recommend people to follow COVID-19 guidelines if they're going. Make sure to wear masks, social distance and not touch your face. If you're the one handing out candy I recommend wearing clean gloves," Peteuil said. 
In Trick-or-Treating, kids dress up and come to people's doorsteps asking for candy.
"If some kids came up to my doorstep and asked for candy while not wearing masks, I would politely ask them all to put masks on. If they refused to do so, I would ask them to leave," Peteuil said. 
According to Peteuil, he will not give the kids candy as well. 
"I would be disappointed especially if they're were a lot of kids without masks. I would continue to give them candy though," Thomas said. 
The fear of COVID-19 didn't only stop people from celebrating, in fact, it opened doors for Halloween alternatives. 
"I think people can celebrate Halloween without going outside. You can always have a party with your family members. You can have food and candy, but with much less risk of getting COVID-19 and spreading it to people," Peteuil said. 
Watching favorite shows at home, reading books, throwing a small party with family members and baking are all alternatives to outdoor Hollween celebrations.
"I think someone could celebrate Halloween and not go outside because they can celebrate it with family. For example, make cookies or carve pumpkins all together," Thomas said.
About the Contributor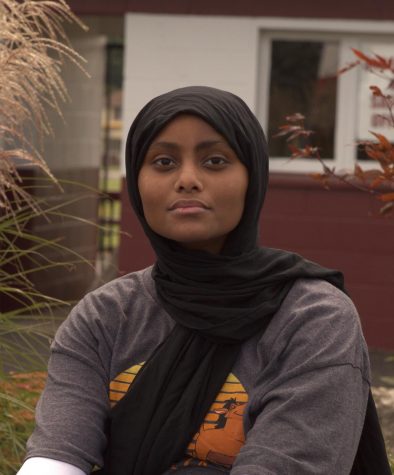 Sufana Hamid, Reporter
Hey! I'm Sufana, a reporter in the sophomore year of high school. I'm a writer and an artist on my free time.  I paint and write short stories. I'm also...