Fall play goes virtual
The fall play tradition will continue Nov. 13 as the drama club presents "War of the Worlds" in a Zoom platform.
According to students, all the teachers from the drama club are making this play fun and interesting to watch.
"I think it will turn out pretty good to be honest; we are all currently working hard to make this play work and be at the best it can be. I also love drama; it's so fun when you get to meet with so many different people all at once. It's also very cool to meet people with similar interests and it's a lot of fun working on the play in general," sophomore Jada Pender said.
They continue to be inspired by having meetings as much as they can, while trying something new.
"I believe the fall play will turn out well, what I like about drama is the fact that we were like a big family. We have one another's back even when we go our separate ways. The teachers in charge are Mr. Cossitor and Mrs. Dungan along with many others. When I was there it wasn't virtual except for the very end of our meetings. We were told to keep practicing through the videos we recorded previously of our dance routines and singing. We used the tracks that Mr. Cossitor had uploaded before. Other than that I believe the play will be fantastic," helper Grace Jablonski said.
Although school is virtual, drama participants continue to meet in person.  Advisers held tryouts for the play and continue having meetings and rehearsals to prepare for the performance.
"We are hopeful that this is going to be an awesome experience for our theater students and the audience alike. It is very different from what we usually do- streaming to the internet involves technology and cameras that we usually don't need to worry about in the theater. It's been fun for us to experiment to see what works and to create this brand new type of 'Zoom' entertainment," drama teacher Ben Cossitor said.
The show they will be performing is called "The War of the Worlds: The Panic Broadcast" which is a science fiction/alien invasion story.
"[The play] tells the story of the original 1938 radio broadcast where people tuned in and actually thought it was real. It's probably the first documented case of 'fake news,'" Cossitor said.
Even though some of the students never performed together, they all depend on each other and become close through theater.
"The thing I love about working with students in the theater is how the actors and crew become a family by the time the show comes around. We spend hours each day together, working on lines, props, costumes…just trying to make sure everything gets done and everyone knows their part. Theater involves all kinds of different people, from shy artists and builders to extroverted actors, and everyone gets a chance to use their talent," Cossitor said.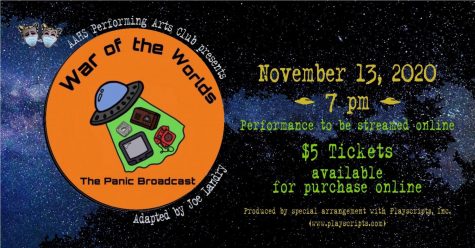 About the Writer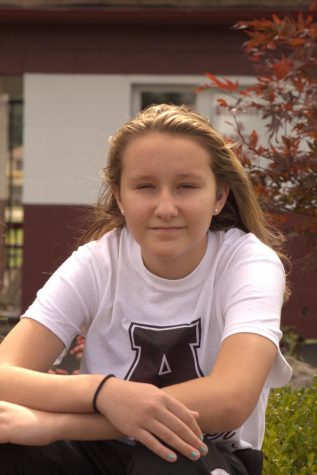 Amy Dean, Reporter
Hi, welcome to my page. My name is Amy Dean. I'm 14 years old, and a freshman at AAHS. I was born and raised in Tampa, Florida. Then I moved to PA when...