First annual senior week planned for week of May 17-21
Seniors Ben Blackie and Jocelyn Fetter have created a week long event that they are calling "Senior Week."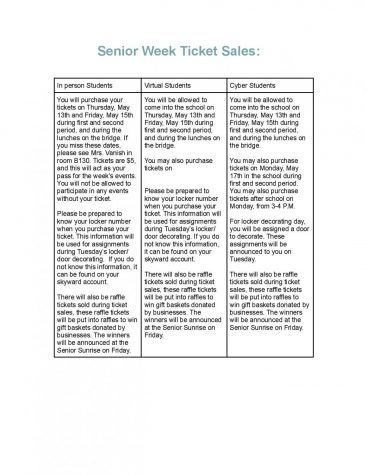 This week is also doubling as a fundraiser for their publication programs. Blackie is the editor-in-chief of the Mountain Echo newspaper and Fetter is the editor-in-chief of the Horseshoe Yearbook, and this event has joined the publication staffs to make a dual sponsorship. 
"The idea was originally proposed when Ben and I were sitting in the auditorium running school pictures, and he told me about a Tik Tok he saw about a senior sunrise that another school did. We started talking about it and thought about how cool it would be to have something like that here. We then started making a plan and decided this would be an amazing way to promote the yearbook and newspaper and raise money for our newspaper," Fetter said. 
The school publications are student run. The school newspaper pays for their website yearly, and due to not having advertisements as heavily this year, the staff needed a new plan for funds. 
"We spent several weeks gathering information and making sure every detail was thought through. We did trial runs on different classes and teachers of our presentation to make sure we got any holes in our plan filled. We then presented our idea to Mr. McGinnis, and he took it to Mr. Neely for approval. We've spent the last few weeks contacting local businesses to donate money for prizes or baskets for raffles," Blackie said. 
Fetter and Blackie have also received help from underclassmen on their staffs and the intro to publications class. 
"We have so many generous donations from so many local businesses, and it just makes me so happy to see what this is becoming. Being a senior this year has been so hard because we have no idea what the future holds for us anymore, and I have quickly learned that tomorrow isn't a guarantee anymore. This pandemic has given me a completely different mindset, and it has also taken such a huge toll on my life as well as my peers. Ben and I are just so excited to be able to offer this to all of our friends and finally get some fun out of this dreadful year," Fetter said. 
This week is going to be four days in a row of activities, and one last ticket sale day. Tickets have been sold the sixth, seventh, and will be sold the 13th, 14th, and 17th. Tickets will also be sold throughout the week from Wanda Vanish's room. The last official ticket sales day is Monday, the start of Senior Week. Tickets can still be purchased each day of the event as well.
"Senior Week will be held May 17 through May 21. Monday will be the last day students will be able to buy tickets. Tuesdays is the locker and door decorating contest. We will be giving students paper templates for their locker. We will have judges come through and choose a winner. Wednesday will be decorating parking spots with chalk as another contest. 
"Thursday will be yearbook signature day and future ambition day. Friday will be the senior sunrise and a balloon launch. Later that night we will announce senior superlatives at prom. I'm the most excited for the sunrise because that was my idea from the beginning, and I'm excited to offer all of this to the seniors," Blackie said. 
Baskets and contest winners will be announced at the sunrise. There will also be speeches from assistant principal Jason McGinnis, class president Jack Hatch and assistant superintendent Brad Hatch. 
"I'm excited to see how this week unfolds. This week is something brand new to all of us and nothing has ever been offered like this before at AAHS. This week is going to feel so surreal, and I know it is going to make me emotional. I'm so excited to have something to look forward to this year," Fetter said.