Football game, behind the scenes
Friday night football games happen at high schools across the country. Friday nights,  the main event may be the actual game and additional performances by the marching band, cheerleaders and the Lioneers; however, the games do not only consist of the performers and athletes. It takes a team of district employees, parent volunteers and retired employees to make the game happen. 
The merchandise table
Debby Speece, Bridget Grassi and Lori Hite run the merchandise table located outside of each event. The trio have been running the table for the past three years. The three arrive at Mansion Park around 4:30 p.m. and leave at approximately 6:30 p.m.
"We love doing this. It helps us continue to feel involved with the school each Friday night, and we look forward to selling merchandise to proud parents and other fans," Grassi said.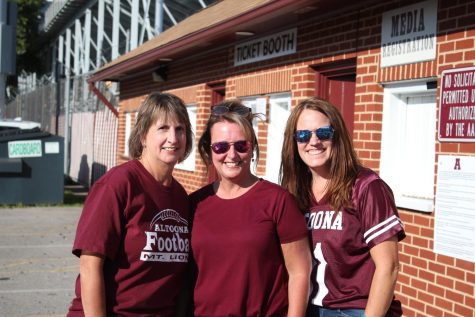 Speece, Grassi and Hite are all volunteers, therefore the money that comes from the merchandise does not go to them, it goes to the football team.
"The money we make each week goes to buying the boys snacks and water bottles for the away games because that can get expensive, so we wanted to help with extra fundraising," Grassi said. 
The ticket booth
Every fan who comes to watch the game is required to visit the ticket booth to be granted entry. Jessica Oswald works the ticket booth on Friday nights and has been since 2019.
"My job is simple: I just sell tickets. Tickets for students cost $2, and for adults, they cost $4. Students are required to show their ID prior to entry," Oswald said. 
During home games, Oswald is required to be at the gate 30 minutes before ticket sales begin.
"The gate and ticket sales start at 5:40 p.m., so I am required to be here before that to make sure there are no hiccups before the game. I don't stay here all night, but I do stay until around the third quarter," Oswald said. 
The main gate
Former mathematics teacher Sandy Catherman remains involved with the district by working the main gate during the games. 
"I've been with the school for 34 years. I retired back in 2019, but each Friday night, as long as there is no interference with my personal schedule, I spend it here," Catherman said. 
Catherman, along with the other staff who work  the games, arrives at Mansion Park early. 
"I usually arrive around 5 p.m. and leave at about 9 p.m. It's a long night, but I find the night enjoyable, so I really don't mind," Catherman said.
With Catherman just retiring in 2019, there are still some of her former students attending AAHS. That is one of Catherman's favorite parts of coming to the events.
"I love whenever my former students come up and say 'hello' to me. I also love watching them perform. It helps me feel connected to the school and the community," Catherman said. 
The security crew
The security staff's main goal is to enforce rules that keep everyone attending the football games safe. Officer John McFalls has been with the school district since April 2022. 
"Myself and the rest of the crew show up an hour before the game to hand out radios for communication. Once everyone starts to arrive, we help enforce the no bag policy and deal with any parking issues so emergent vehicles can get in the gates once the game starts," McFalls said. "One of us sits up in the stands with binoculars to watch over the games. They also respond to calls all evening. Sometimes, the superintendent will call if needed."
The security crew that attends the games call Friday nights "15 hour Fridays". 
"15 hour Friday is a term we came up with because when there is a home game and we have to be here [at Mansion Park] until around 10 p.m., we have all already worked the entire school day," McFalls said. 
McFalls and the rest of the security crew deal with any events that could be considered dangerous or harmful to any of the fans, staff, performers or players to ensure a fun, yet safe Friday night.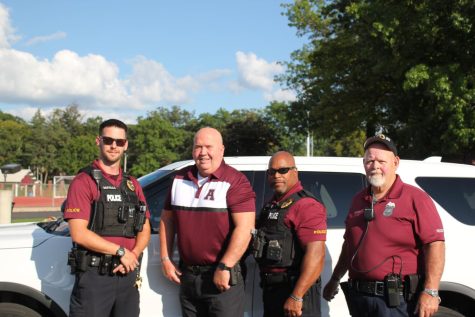 " Well, for example, our first game against Hollidaysburg this year had about 9400 people attending. Meanwhile, there are about 5200 in the town of Hollidaysburg. We draw a big crowd. Since we are a smaller stadium, with that big of a crowd there's a lot going on. There are typically no major incidents, but there are multiple smaller incidents per game such as: fights, people who are not permitted to be here because of student conduct violations, parking complaints and people getting upset about the no bag rule," McFalls said. 
The press box
Former Spanish teacher Joe Shuta works in the press box every Friday night. He was a teacher for 38 years before retiring, and he has been working as the announcer for the past 31 years.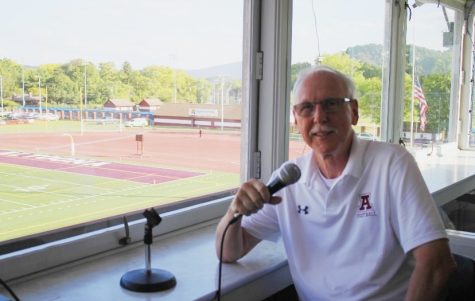 "I enjoy being able to watch the games for one, and I love to inform people of what's going on because it really is part of the experience of a Friday night game. For parents, especially mothers, if their son's name is announced, they get excited and I love being able to give the boys that kind of recognition," Shuta said.
Shuta's job consists of what he calls: "the three Cs" 
"
You have to be clear, concise and correct to be a good announcer,"
— Joe Shuta
"You have to be clear, concise and correct to be a good announcer. Through the microphone, you have to make sure what you're saying is clear so people can understand what you're saying. Being concise assures no misinterpretations from being too wordy. Of course being correct means you don't have any information wrong. There's nothing worse than scoring a touchdown and having someone else's name called out for all of your hard work," Shuta said. 
Shuta will continue to return to Friday night games as long as he still enjoys announcing and is able. 
"I love my job. As long as I am still enjoying coming out and doing this, and the school district wants me to keep on coming back, I'll be here," Shuta said.