UPMC, Lung Disease Foundation places 30 vape sensors throughout school to decrease teen vaping usage
On Wednesday, April 14, the UPMC Altoona Foundation and Lung Disease Foundation of Central Pa., presented vape sensors to the school. The presentation was located at the school building where officials from the Lung Disease Foundation handed the 30 vape sensors to principal Andrew Neely.
These 30 vape sensors will be placed in all of the bathrooms as well as in large areas throughout the school. The sensors are able to detect chemical changes in the air like THC smoke which is the smoke released from vapes. When the sensors detects this change in air quality, it alerts the school.
The founder of the Lung Disease Foundation of Central Pa., George M. Zlupko, was present at the library and talked directly to the students, teachers and school officials, explaining the benefits of the installation of the vape sensors.
"These vaping sensors just amplify that fact that we are serious about this [and] that we want you to be aware of this.  Hopefully, [we] get some folks to think more seriously about giving up this habit if they can, and if they can't, to try and get some help to do that," Zlupko said.
Community regulations director Paula Foreman organized the presentation which occurred during third period at 10 a.m. and lasted no longer than 10 minutes.
About the Contributor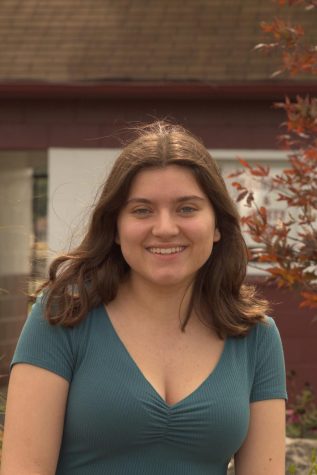 Sydney Wilfong, Associate Editor
I'm Sydney Wilfong, a senior at AAHS. I'm part of the band as a proud tenor saxophone player. On the days I have time, I enjoy writing, reading and...