"I'm in"
Senior Samantha Chestnut will attend Penn State University after high school. In this senior special blog, Chestnut expresses her love for Penn State's architecture program and tells why she's excited for this new chapter in her life.
Q: Why did you choose to go to Penn State University?
A: I chose Penn State because they have one of the best architecture programs in the nation. The University Park campus is also close enough to home that I can visit my family on the weekends and be back at school during the week.
Q: What are you majoring in or planning on studying at PSU?
A: I will be in the architecture program. It is a branch of the Arts and Architecture College.
Q: What excites you the most about college?
A: I am very excited to be able to live on campus and be able to experience new things. I really liked the campus each time I visited and there are a lot of fun and interesting things to do and clubs to join.
Q: Is there anything about college that intimidates you?
A: I am a little intimidated about being mostly on my own. I will have to figure things out for myself, which I don't mind, but it will most definitely be a new experience and the first step to being completely on my own after I graduate from college.
Q: What other colleges were you looking at as other options?
A: I did not apply to any other colleges. I looked at other schools initially, but decided to only apply to Penn State with the hope of being accepted.
Q: Why did you think this college was the choice for you? What about the school interested you?
A: I thought that Penn State would be the best fit for me because it is close to home and has an excellent program for my major. I liked how the architecture and landscape architecture students have one building to themselves that functions like an office: The higher your year–both are five year programs–the higher the floor you are on in the building. The fifth years have really great views out of the windows at the top.
Q: How do you feel about senior year ending so soon?
A: I am both excited and nervous for my senior year to end. A new chapter of my life, all of our lives, will be starting. However, I am extremely excited to meet a lot of new people and learn how to be an architect.
Q: What do you think will be the biggest difference between high school and college?
A: I think the biggest difference will be how much time I have outside of classes. I most likely will have more time where I am not in class, but will have to manage my time in order to complete all of the homework and keep a job and maintain the social aspect of my life.
About the Writer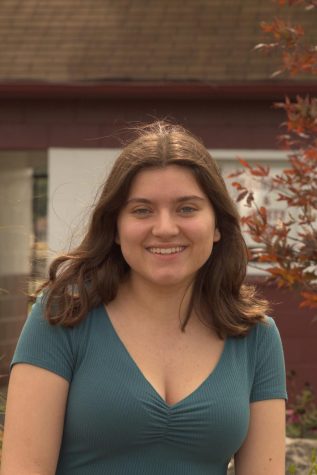 Sydney Wilfong, Associate Editor
I'm Sydney Wilfong, a senior at AAHS. I'm part of the band as a proud tenor saxophone player. On the days I have time, I enjoy writing, reading and...